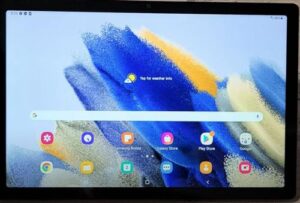 If your Samsung Tablet has frozen or become stuck on one screen it could be related to a software issue or physical damage.
the most common fix is to force restart the tablet.
If you are worried about losing important data not saved, completing a force restart should not delete any of your information, pictures, or documents.
Fix for a Frozen Screen on a Samsung Galaxy A8 Tablet
Put the Samsung Tablet on it's side


We are going to force a restart of your tablet, you will need to use the button on the side of the tablet to do this. You can also lay it flat if it is easier but you will want to stabilize the side so it does not move when you press the power and volume down buttons.

Press and hold the power button and volume down button


You will need to press and hold both buttons at the same time.

Release both button when the Samsung logo appears


Continue to hold the buttons till the Samsung logo appears, this can take up to 30 seconds so continue to hold.

Samsung Table will start to reboot


The reboot can take up to a minute to reboot.

The tablet should now be fixed


Your Tablet should now be working. If it isn't working try to force restart it using the steps above making sure to press both buttons at the exact same time.

Summary
It can be upsetting when your device freezes on you or stops working. By forcing a restart on your Samsung Galaxy A8 tablet it can fix the frozen or stuck screen without impacting any of the content on the device, so you don't lose important information not recently backed up. We do recommend you back up all data or set your device to complete this automatically in case you can't get back into your tablet. If you have problems with fine motor skills, you will want to get another person to complete the force restart for you.

If you found this post helpful or another way to fix a frozen or stuck screen please leave us a comment below letting us know.