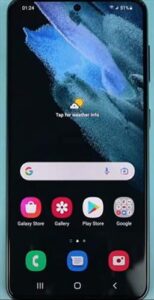 If you have a Samsung Galaxy S21 smartphone and want to change the sound notification, follow the simple steps below.
If you are asking yourself, "Why Bother Changing My Ring Tone!"
Changing your phone's ringtones allows customization of your smartphone's sound notification, allowing you to pick from multiple different options that fit your unique style.
Different sounds can affect an individual's mood, so picking a sound that can prevent irritation and annoyance when being interrupted when your phone rings can prevent further irritation. Music has long been identified as a stress-reducing method used for centuries. We receive messages and calls numerous times throughout the day, including a sound notification you enjoy is a good way to stay calm and focused.
How To Change Notification Sound Samsung Galaxy S21
Open Settings (Gear Icon)

Select Sounds and vibration

Select Notification and sounds


You can also change the vibration pattern on your phone by selecting vibration instead of sound. Samsung has built-in ten different vibration patterns. Just as the sound plays when you select it, the vibration pattern will vibrate so you can decide on which one fits your needs. You can also choose the intensity at which your phone will vibrate.

Select Sound Preference
Summary
Being able to change your notification sounds on your smartphone is a nice option built into your Samsung Galaxy smartphone. Different sounds can have different effects on people. Some sounds can be annoying, distracting, and just plain irritating. Changing your smartphone's ring tones to a sound that appeals to you can prevent those emotions. You can also tailor your smartphone ringtones to specific callers so you know who is calling or texting you without looking and your phone. If you are hard of hearing, the vibration method may be a better method of receiving a message or phone notifications.
Samsung does make it easy to customize your smartphone's sounds with quality built-in features.
If you found the above helpful please leave a comment letting us know below.