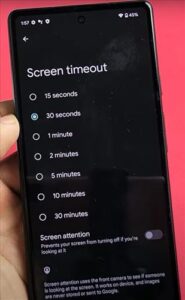 Changing out your screen timeout on your Google Pixel 6a so it locks when not in use is a safety feature built into most current smartphones on the market. This feature prevents others from accessing your phone if you forget to lock the screen prior to setting it down.
To change these features for your individual use follow the short tutorial below.
How to Change Screen Timeout on a Pixel 6a
Swipe Up on your Home Screen

Tap on Settings

Tap on Display

Tap on Screen Timeout

Tap on Screen Timeout Preference
How Do You Delay the Lock Screen In Pixel 6?
Delaying and changing your lock screen on a google pixel 6 can be done through your phone's settings. Once in the settings, you will open the display feature followed by the screen timeout.
You will want to keep in mind how often you are interrupted throughout the day or set your phone down and walk away to complete a task.
If you want to access this feature but don't want to constantly tap the screen so it doesn't time out. There is a feature called Screen attention under the screen timeout options. You can toggle this on and it will prevent the screen from turning off if you are looking at it.
Summary
The purpose of the screen timeout is to protect your phone from being accessed by others by automatically locking your phone's screen when sitting idle for a period of time. The screen timeout can be changed to as short as 15 seconds and as long as 30 minutes.
The great thing about this feature is it will also help save the battery life by locking your phone's screen.
We recommended you use this feature on all devices to protect your personal information.
If you found the above tutorial helpful please leave us a comment below letting us know.