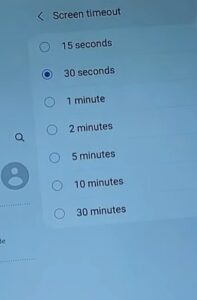 If you find it annoying that your Samsung Galaxy Tablet A8 keeps locking after a short break in use, you can easily change the timeout time in your tablet's settings. Just follow the simple steps below to select the time that fits your needs.
We recommend you don't turn off the screen timeout setting to protect your device and its content. Security features built into our devices are an important part of securing and protecting our personal information from those who have obtained the device through theft or being lost and found by the wrong person.
How To Change Screen Timeout on a Samsung Galaxy Tablet A8
Swipe up on the screen to bring up all apps.

This will allow us to go directly to your settings icon.


Select Settings.

Select Display.

Select Screen Timeout.

Select the time wanted.

You will want to select the time your Samsung Galaxy tablet will timeout and lock the screen. Once you have selected the timeout time, use the back button, and you will see the time you selected for the locked screen.

Summary
Samsung offers many different options to protect your device and the information you have on it. The timeout feature allows you to set the time you would like your Samsung Galaxy Tablet A8 to lock the screen, securing it from others. It is an important feature to have on as it will lock the screen for you if you get distracted or are unable to return to your tablet when others are present. If your tablet becomes lost or stolen, the person who has it will not be able to access the content of the tablet if the feature is left on. Our tablets store many private and personal information that you may not want in the hands of others.

If you found this post helpful, please leave a comment below letting us know.