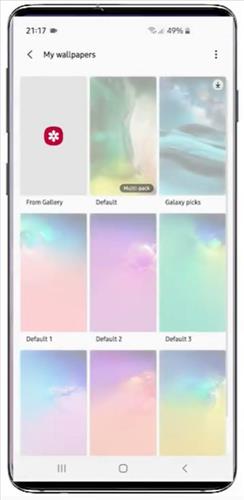 Changing the background wallpaper image on a Samsung Galaxy S10 is easy to do in a few steps.
This includes the Samsung Galaxy S10, S10 Plus and S10 Edge.
The images can be taken with the phone's camera and used as a background or downloaded from the internet.
There are stock images that can be used for the background wallpaper, or a photo can be taken with the phone and used.
Images can even be copied to the Galaxy S10 and used and the background.
Whichever image is used, the steps will be the same as shown below.
How To Change the Background Image on a Galaxy S10
Go to the home screen and touch and hold on to any blank area.

At the bottom, select Wallpaper.

Select View All.

Select the wallpaper to use (Default wallpapers are available to choose from).

Select either Home Screen, Lock Screen or Both.

Select Set As Wallpaper.

The background will now be set to the image selected.
Summary
If you have an image and would like to change the background on a Samsung Galaxy S10, it can be done quickly and easily.
The steps are the same for any image and can be quickly replaced or updated.
To change the image press, and hold an empty space on the display until the wallpaper option comes up.
Occasionally updates can change the settings layout, but the option should be roughly the same procedure.
Most users take a picture with the phone and use it as the wallpaper image, but any image can be set.
This is very useful for a use that has a picture o a pet, family member, scenery, hobby, or other favorite things that can be displayed as a background image.
Default images are also available to choose from if you do not have an image to use.
Have you had any issues changing the background on your Galaxy S10? Let us know below.