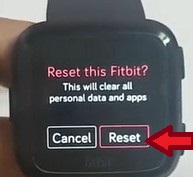 If you have decided to change out your smartwatch for another or sell it you will want to reset your Fitbit to factory settings. Factory Resetting your Fitbit will remove all data, when done it will be like taking it out of the box for the very first time. If you have important health data you would like to save make sure to do so before the reset.
If you are having connection issues, screen freezing, showing a black screen, or won't turn on try the steps in What To Do If Your Fitbit Versa Won't Turn or Power On before attempting the factory reset or buying a new smartwatch.
How To Factory Reset and Turn Off A Fitbit Versa
Log on to your Fitbit Account and remove the device you are hard or soft factory resetting

You will want to do this for both the soft and hard factory reset
Soft Factory Reset
Swipe right and select settings

Scroll down and select About

Select Factory Reset

Select Reset
Hard Factory Reset
Press and hold all 3 buttons until the Fitbit logo appears and disappears

Release the bottom right button and continue to hold the other 2 buttons release after you feel a vibration from the watch

The Fitbit logo will appear and disappear continue to follow the steps above until you feel your watch vibrate, signaling the factory reset is complete. The Fitbit logo will appear and the factory reset is complete.
How Do I Delete My Fitbit Account and Start Over?
If you want to delete your Fitbit account and start over, you will need to do three things.
First, you will want to write down and save any important health information that may be needed during provider visits.
Second, log in to your Fitbit account on your computer and delete your user profile. If you want to save your previous Fitbit data, don't delete your current profile, just remove your current Fitbit device (step 1) from your current account. Now create another Fitbit profile using another email address.
Third, factory reset your Fitbit watch under the settings tap or using the hard buttons on the side of your watch. You can then repair your Fitbit Watch with your new account.
If you found the above tutorial helpful please leave us comment below letting us know.