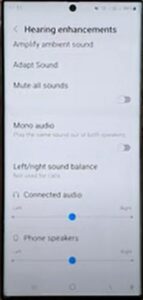 If you have a Galaxy S22, the mono audio feature can be quickly enabled or disabled.
The feature can benefit audio when headphones and earpieces are used.
What is the Galaxy S22 Mono Audio Feature?
The mono audio feature allows the user to hear the same sound in both the earpieces, left and right.
This is helpful if you have hearing impairment in one ear and not the other.
The sound can be adjusted to it the user making for better sound quality.
How to Enable and Disable Mono Audio on a Galaxy S22
Swipe down on the home screen

Tap on the Settings (Gear Icon)

Tap on Accessibility

Tap on Hearing enhancements

Toggle on or off Mono audio and tap to the left

Select one of the two options
Summary
Mono audio is a nice feature if you have hearing impairment in one ear and not the other, as it plays the same sound in both earpieces. This prevents you from missing any audio that would otherwise play differently in the impaired ear.
It is also useful when multitasking or if you have safety concerns, as you only need one earpiece in place instead of two, leaving the other ear available to listen to what is going on around you.
If you want the sound to be louder, mono doesn't appear to make the decibels any louder. Depending on the individual, it may sound louder as the sound is being played equally in both ears.
Changing your smartphone's sound settings is simple and quick. If you find that you prefer mono audio for work but stereo or another audio feature for your personal use, you can easily switch between the two.
If you have used the mono audio feature, please leave us a comment below, letting us know how you use it.