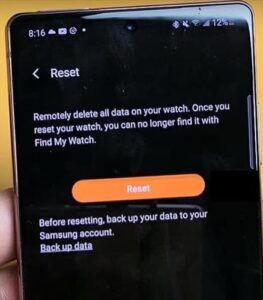 If you are not able to factory reset your Galaxy Watch 3 using your watch, you can use your phone to factory reset it instead.
Why Factory Reset a Galaxy Watch 3
Factory resetting your Galaxy Watch 3 is done for several reasons. You may be selling, giving away, or trading in your watch for another.
It may be that your watch is not working properly and is not turning on or showing a black watch face. Factory resetting it can help get your watch working again.
Remember any time you complete a factory reset on any device, you are removing all user data. Once complete it will be like taking it out of the box for the first time.
How to Factory Reset a Galaxy Watch 3 on Your Phone
Swipe Up on Your Home Screen

Tap on the Galaxy Wearable App

Tap on General

Tap on Reset

Tap on Reset
Summary
Factory resetting your Galaxy Watch 3 is an important step in securing personal information when transferring the device to another person when selling, giving, or trading the watch in. If you don't factory reset your watch any information can be used by the new owner.
You may also want to complete a factory reset if your Galaxy Watch 3 is not working properly, such as running slow, not loading, not providing notifications, turning on and off, and displaying a black watch face but running in the background. We recommend you complete scheduled back-ups on your Galaxy Watch 3 and other devices so important data is not lost in case of situations where you aren't able to access or use the device.
When you factory reset the watch all data will be deleted, it is important that you back up all important data prior to the factory reset.
If you found the above steps helpful please leave us a comment below letting us know.