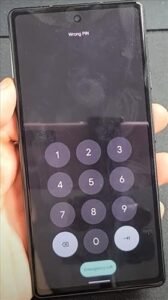 If you have misplaced or forgotten your password and need to get into your phone, a factory reset is most likely your last option.
When you complete a factory reset all data is completely wiped and removed from the device. It will be as if you are taking it out of the box for the first time.
Several important considerations to take into account prior to resetting your Google Pixel 6a as the factory reset will become permanent.
Save All Important Non-replaceable Files:
Phone Numbers
Text
Pictures
Videos
Documents
Passwords
How to Factory Reset a Google Pixel 6a Without a Password
Press and Hold both the Power Button and Volume Up Button

Tap Power off

Press and Hold Both the Power and Volume Down Button at the Same Time

Release when Fastboot Mode Appears

Use Volume Keys to Move through Menu to Recovery Mode

Press the Power Key to Open Recovery Mode

First Hold the Power Key and then Press the Volume Up Key

Use the Volume Keys to Move Through the Menu

Find Wipe data/Factory Reset

Press the Power Key to Approve the Factory Reset

Wait Till You See Data Wipe Complete Appear

Press the Power Key to Reboot System Now

Pixel 6a will Reboot

Factory Reset Complete
Summary
If you have tried endlessly to access your phone but can't remember your passcode, you will need to factory reset the device. When you factory reset all data is permanently deleted, making it like new again.
If you have a Gmail password set-up on your phone, you will need to have this password to complete the factory reset.
Because of situations like this, we recommend you have autosave turned on so irreplaceable data (pictures, videos, work files) aren't permanently lost with the factory reset.
If you found the above tutorial helpful please leave us a comment below letting us know.