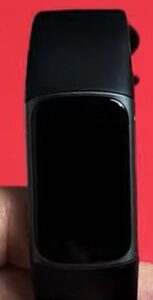 If you have a Fitbit Charge 5 and are now getting a black screen, this can no doubt be very frustrating.
The Charge 5 also can become frozen on one of the screens, such as when using an app, and in some cases, the Charge 5 will not turn on.
The most common fix is to force a restart which is quick and easy to do.
Below are the steps to force a restart with the Fitbit Charge 5, which is a common fix for a black screen.
How To Force a Restart a Fitbit Charge 5 Watch
Locate the button on the USB charging cable.


First, grab your charging cable and look for the button next to the USB-A charging cable. You will need to use this button to force a restart on your Fitbit Charge 5. Make sure the button on the USB-A charging cable is not stuck or damaged by pressing it a few times.
You will need the original charging cable that came with your Fitbit Charge 5.

Connect the Charge 5 to the charging cable.


Make sure your charging cable is plugged into an outlet.

Press the button three times.


You will press the button on the side of the USB-A charging cable three times, pausing one second in between each time. You should feel it vibrate at least once in between the three-second count presses.

The Fitbit logo will appear.


You will feel it vibrate one more time as it boots back up. You will need to wait 10-15 seconds before you will see the Fitbit logo appear.

The Display Screen will appear, and the watch should be unfrozen.
Summary
Smartwatches are expensive, and it is frustrating when it stops working after a recent purchase.
When a Fitbit Charge 5 is showing a black screen, you can try the simple steps above to get your watch up and working in no time. We recommend you try the above before deciding to trash the watch and purchase a new one. If it doesn't work the first time, we recommend you repeat each of the steps over to make sure it was done correctly. If your watch's battery was completely drained, you would want to charge for at least ten minutes before attempting to force a restart.
If you found the above steps helpful, please leave a comment below letting us know.