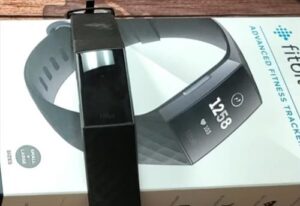 If your Fitbit Charge 3 is showing a black or blank screen and won't charge or showing the clock face, you can try the solutions below to fix the issue.
The clock face often has a problem and will not display, but you will be able to feel the phone vibrate.
Before starting, you will want to make sure your smartphone is charged, and you have the most recent update installed on your Fitbit app. You will also need your charging cradle to complete the last method.
How To Fix A Fitbit Charge 3 That Won't Turn On
Fix #1: Change and Reset The Clock Face

The clock face can be reset and changed using the Fitbit app on your smartphone.

Here are the steps to reset the clock face by changing it from within the app.
Open the Fitbit App

Select your Profile

Select Charge 3

Select the option Clock Faces

Select All Clocks

Select a New Clock Face

Click on the Select button

Fitbit Clock will now Sync

You should see the status bar on your Fitbit Charge 3 as it syncs and change's to the new clock face.


A Check Mark will Appear when Done

You should also feel the phone vibrate, signaling completion.


The New Watch Face will Appear
Fix #2: Force Restart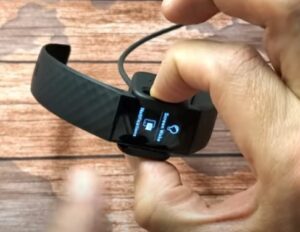 Forcing a restarting like rebooting a PC often solves many issues.
To restart the Fitbit, the charger is used in combination with the buttons.
How to Force Restart a Fitbit Charge 3
Place the Fitbit in the Charging Cradle, then Press and hold the Reset Button.

You will want to make sure the Charge 3 is snuggly in place, move, wiggle, pull the watch while in the charging cradle for proper placement. You should also hear a snap as it snaps into the correct place within the charging cradle. You will hold the reset button till a happy face appears, around 15-10 seconds. If it does not work after 15-20 seconds, try again. It may take several attempts to get the happy face to appear.


Release when Happy Face Appears

Your Fitbit Charge 3 should now be up and in working order.

Summary
So your smartwatch is showing a black screen; it doesn't matter if it is brand new or used. The solutions above can help you get your Fitbit Charge 3 and Fitbit Charge 4 back up and in working order in no time. You are saving your money and time on a new smartwatch. If you tried both solutions above and it did not work, don't give up. You may need to go through the steps several times, repeating the instructions. The clock face your select is not important and can be changed back to the previous, or preferred clock face after your watch is back up and running.
If you found the above solution helpful or found another method to fix the problem, please leave a comment below letting us know.