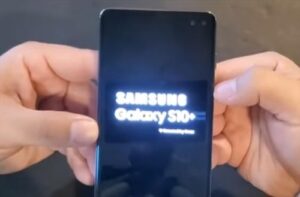 If you own a Samsung Galaxy S10 and it has become unresponsive and frozen, there is a quick and easy fix.
The Galaxy S10 is a good phone but can have problems once in a while, including locking up and not responding to touch.
The main fix is to restart the phone using the buttons.
The volume up and power buttons are pressed at the same time, which will restart the device and usually solve the issue.
This includes all versions of the Samsung Galaxy S10, including the S10e and S10 Plus models.
How To Fix a Samsung Galaxy S10 that is Frozen
Press and hold the Volume Down Button and Power button at the same time until the phone restarts.

Let go of the buttons when the screen goes black.

The phone will restart, displaying the Samsung Galaxy S10 logo.

The unit should now work and be unfrozen.
Summary
If your Galaxy S10 has become frozen and does not respond to commands, this can be very frustrating.
The usual fix is to restart the device with the buttons, which should get it working again.
If the above fix does not work, a hard reset can also be done, which will delete all user data.
It is not recommended to do a factory reset since all the data will be gone, including phone numbers, text, and apps.
It is recommended to take the phone to a repair store if a standard reset does not work.
The reasons a smartphone locks up can vary, but often the touchscreen input has overwhelmed the phone sensors.
While rare, a drop in pressure or other weather conditions can cause a smartphone to become unresponsive.
Other reasons can be a bad app or simply a bad malfunctioning smartphone.
If restarting the phone with the buttons does not work, it will likely need to be taken into an authorized Samsung repair store.
Have you had issues with the Galaxy S10 freezing up and not working? Let us know your thoughts below.