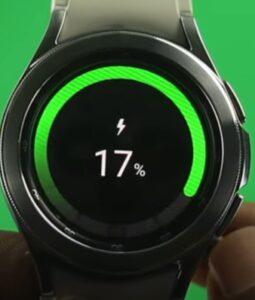 Like any other electronic device, you can also have issues with your Galaxy Watch 4 not charging.
Before you start to panic and stress about having to purchase a new watch, try the simple solutions recommended below.
How to Fix Galaxy Watch 4 Not Charging
Fix #1 Check Adapter and Cable Cord
Check Adapter for Damage and Compatibility if Replaced

Check Cable for Damage and Compatibility if Replaced

Try Charging Your Galaxy Watch 4
Fix #2 Clean Magnetic Charging Plate and Watch's Sensor
Clean Magnetic Charging Disk

Use a Soft, Non-scratch Cloth
Clean the Back of the Watch

Try Charging Your Galaxy Watch 4
Fix #3 Remove Any Plastic or Covering
Remove the Plastic Film from Magnetic Charging Disk

Try Charging Your Galaxy Watch 4
Recommendation to Prevent Battery Malfunction
We recommend you never let your Galaxy Watch 4 battery drop below 10%. When your battery runs down it will take it longer to charge causing the sensor to become hot. This is could lead to the Watch overheating and malfunctioning.
Don't place other electronics or items on top of your charger or watch. If you are charging your watch, it could decrease ventilation and cause overheating and damage.
Clean your Galaxy Watch's sensor, on the back of the watch regularly. Sweat, dirt, lint, and other particles can collect and imbed in and on your watch's sensory reader causing it to not charge.
Summary
Not being able to use your Galaxy Watch 4 because you are unable to charge it, is upsetting and costly. We recommend you try to troubleshoot and work through some possible solutions to the problem before tossing your watch and buying a new one. Many times, it is as simple as removing dirt, and dust or replacing your old charging equipment.
You will want to also check your Galaxy Watch 4 for physical damage. Cracks, chips, and stuck keys/buttons can prevent the watch from charging.
If you are still unable to charge your Galaxy Watch 4, your next step would be to complete a Factory Reset.
If you found the above fixes helpful or found a solution not listed please let us know in the comments below.