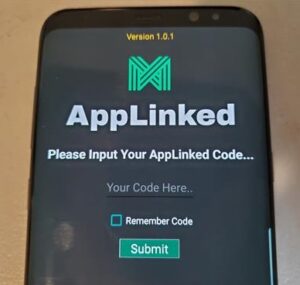 AppLinked is a great new way for Android devices such as smartphones to share files.
This includes Movie and TV show Apps which are very popular.
Popular Movie APPs include Cinema HD, Cyberflix, Cuco TV, Film Plus, and more.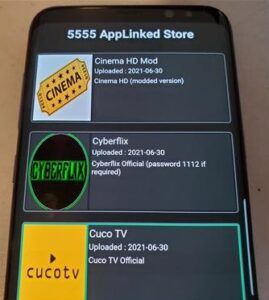 The first step is to install AppLinked and then use a store code that will have the App.
When installing App-Linked or any App it will need to be Allowed Access and sometimes Install Unknown Sources will also have to be on.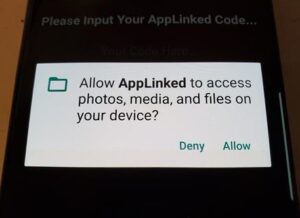 Android smartphones will vary on settings depending on the phone, with most needs to click Allow.
Official Website
New Website: https://applinked.store
Old Website: https://i4studio.co.uk
How To Install AppLinked to an Android Smartphone
Open a Browser such as Chrome and go to the AppLinked website https://applinked.store

Scroll down to Download the App and select Download

Click Open

Click Install

AppLinked will be installed and ready to use
How To Use AppLinked with an Android Smartphone
Open AppLinked and enter the Code 5555

Find and Select the APP inside the Store you want to install.

Click Download and Install the APP
Top 5 Best AppLinked Stores for an Android Smartphone
5555
7777
911
475414651
301851852
What Is AppLinked?
AppLinked is an App that allows for easy sharing of files.
It is a replacement for the once very popular FileLinked app, which has shut down.
The most shared files are movie and TV shows Apps along with sports and live TV.
What Android Smartphones are Compatible with AppLinked?
There is no system requirements on the official webpage but almost any Android Smartphone with Android 5 or higher should be compatible.
I tested AppLinked on older smartphones including a Galaxy S5, S6, S8, and Galaxy S10 with no issues.
Let us know in the comment what Android smartphone you have used.
Summary
AppLinked is a great way to share files with other Android users.
Besides smartphones, it can also be used on TV boxes, Android TV, and the Fire Stick.
Installing a Movie or TV show APP is easy to do along with updates when needed.
Currently, the most popular Movie APP is Cinema HD but there are many others available.