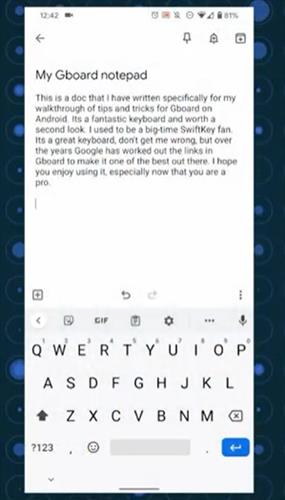 Do you find yourself hitting the wrong keys over and over again?
Does it take forever to send one email or message when typing on your Android device? Do you like using Emojis, Avatars, or GIPHY?
The GBoard is one of the best and most frequently used Android keyboards currently available in the Google Play Store.
To try out different keyboards and find the one that best suits your needs, go to your Apps section and tap Google Play Store. You will be able to search and look for different applications to download, too include different keyboards.
Best Keyboard Apps for an Android Devices 2021
GBoard
Emojis and Fonts
Facemoji Emoji
The guide below can be used to download any keyboard app from Google Play.
How To Install GBoard the Best Keyboard App on an Android Device
Open the Google Play Store and search GBoard

Select Install and wait for it to load

Downloading

Exit and Go into Your Main Settings. Swipe Down and Select the Gear Button on the Top Right

Select General Management

Select Language and Input

Select On-screen Keyboard

Select Manage Keyboards

Turn Gboard Toggle On

Select Ok

Select the Keyboard Icon on the Bottom Right of the Screen

Select Gboard

Select the G on the Top Left of the Keyboard

Select the Gear Icon to get to the Keyboard Settings

Customize Your Keyboard



How Do I Download Gboard On My Phone?
You will first need to access the Google Play Store and search for Gboard in the search bar. You will need to select install and wait for it to download.
Make sure you are connected to the internet for fast download. Once done downloading you will want to go into your setting and make the Gboard your primary keyboard.
Do you have a favorite Android Keyboard app? Let us know your thoughts below in the comments.