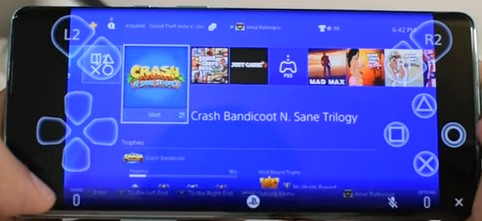 Sony has now made remote playing available for Android devices with PS Remote Play so you can take your games with you wherever you go.
You will want to connect your wireless remote and earbuds or headphones to your phone using Bluetooth for a better gaming experience.
Besides Android smartphones, you can also connect Android tablets and laptops by following the same steps below.
When you first set up your console and phone, it is best to use your WiFi network from home. This will make it easier for your PlayStation to recognize your phone.
How To Setup PS Remote Play an Android Smartphone
PS Remote Play PlayStation Console Settings
Go to Settings.

Scroll down and Select Account Management.

Select Activate as Your Primary PS4.

Select Activate and go back to the main settings page.

Select Remote Play Connection Settings

Select Enable Remote Play and Go back to the main settings page.

Scroll down and select Power Save Settings.

Select Set Features Available in Rest Mode.

Select Enable Turning On PS4 from Network.
Android Smartphone PS Remote Play Set Up
Sign in using the same account and user name as your PlayStation Console.

Choose PS4 or PS5.

The Android smartphone will start Connecting.

Once it connects it will be ready to play.
Enable Turning On From Network
By enabling this feature it allows you to turn on your PlayStation using your Smartphone or tablet regardless of where you are at.
You will need to go to the Google Play Store and install and open PS Remote Play.
After PS Remote Play is installed follow the instructions to enable the feature.
Summary
Playing your favorite PS4 and PS5 games with a remote on an Android smartphone is a nice feature to have.
If you find yourself stuck somewhere and bored out of your mind, you can now open your PS4 or PS5 app and play video games.
The setup is straightforward and works very well once installed.
I do recommend you connect earbuds or headphones and your wireless controller to make it an overall better experience.
You can do this by opening your phone's Bluetooth and connecting the available device. When connecting your controller, the dual sense controller won't work, but you can use the dual shock wireless remote.
You will also want to get a Phone clip mount that can hold both your phone and controller, so you don't drop your phone.