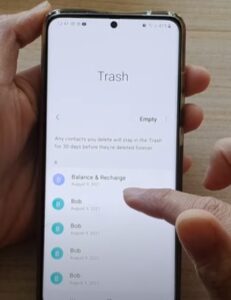 If you own a Galaxy S21 and a contact has been deleted or is missing, it can be recovered from the trash option.
Whenever a contact is deleted, it is saved to the trash and can be recovered.
It works much the same way as Microsoft Windows trash option with deleted files going to trash which can be deleted for good or recovery to be used again.
How To Restore Deleted Contacts from Trash Galaxy S21
Swipe up to see all apps on the phone and find and select Contacts

Select the three dots on the top left of the screen

Select Trash

Select the contact that was deleted

Scroll down to the bottom of the screen and select Restore
Summary
Recovering a lost contact from the trash on a Samsung Galaxy S21 is quick and easy to do.
When a phone number or contact is deleted, it is sent to the trash, which can be sent back to the main contact list.
A single contact can be restored or multiple ones by highlighting them and then clicking on the restore tab.
Are you having issues with lost or missing contacts on your Galaxy S21? Let us know what the issue is below.