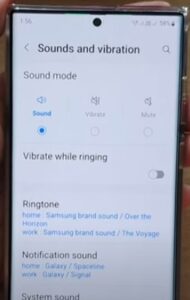 If you have a Samsung Galaxy S22 and use two different Sim cards, the ringtones can be set differently for each.
Each tone can have its own unique sound helping to quickly identify which is ringing.
This is a very handy feature that is available on the Galaxy S22, S22 Plus, and S22 Ultra.
The Galaxy S2 has several unique tones that can be used to set the two SIM cards apart and know which is running the phone.
How To Set Different Ringtones for SIM 1 and SIM 2 Galaxy S22
Swipe down from the top of the screen and Select Settings (Gear Icon).

Select Sounds and Vibration.

Select Ringtone.

Select the first SIM-1 Card.

Select the SIM-1 Ringtone sound.

Go back one step and select the second SIM-2 Card.

Select the SIM-2 Ringtone sound.

The vibrate on or off can also be selected.

Summary
The Samsung Galaxy S22 is a very nice Android smartphone with many options and features.

One such option is the ability to use two SIM cards with different cell services.

Different ringtone sounds can be given to each different SIM card which can be very handy to quickly tell the two apart when a call is incoming.

This means SIM-1 will have a different ring sound than SIM-2.

There are many ringtones available from the menu options, including poplar options Over the Horizon and the Voyage.

Many others are also available such as Asteroid, Atomic Bell, Beep Once, Chime Time, Comet, and many more.

Separating the two SIM cards by ringtone sounds can make it easy to quickly distinguish which is ringing.

The vibrations can also be turned on or off for each SIM card from the same settings.

For example, the vibration can be set to on for one SIM card and off for the other SIM card, which also separates the two notifications.

Have you had any problems with setting different ringtones for SIM 1 and SIM 2 on a Galaxy S22? Let us know your thoughts below.