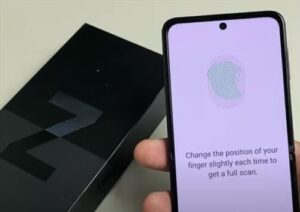 The Samsung Galaxy Z Flip 3 is a great Android smartphone with many built-in safety and security features, including a fingerprint scanner.
The Flip 3 fingerprint scanner uses the power button to scan your thumbprint or fingerprint to unlock your phone.
Once set up, there will be an option for fingerprint unlock and fingerprint always on.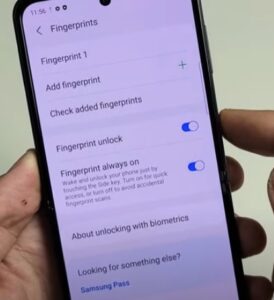 The most common setup is to enable Fingerprint to unlock and disable fingerprint always on but this is a personal option.
The fingerprint always on states:
Wake and unlock your phone just by touching the side key. Turn it on for quick access or turn it off to avoid accidental fingerprint scans.
Once the scanner is set up, the option can be turned on or off at any time.
How To Setup Fingerprint Scan Samsung Galaxy Z Flip 3
Click on Settings (Gear Icon)

Find and Click Biometrics and Security

Select Fingerprints

Enter your Pin Number or create one

Click Continue

Place the pad of your thumb or chosen finger on the power button and move it around to get a good scan

When complete it will show 100 percent and display fingerprint added

Click on done, and your fingerprint security feature will be ready to use

Does Galaxy Z Flip 3 Have Fingerprint?

The Galaxy Z Flip 3 does have the option to enable the fingerprint security feature to lock and unlock your smartphone. It uses the power button/key on the side of your phone as the fingerprint scanner.

You will need to have a pin code to set up the fingerprint feature. If you don't already have a pin created for your phone, you can create one when you set up and scan your fingerprint.
Summary
Setting up the Galaxy Z Flip 3 fingerprint scanner is an added security feature to protect your phone's content when not in use.
The power button is used to read your print which must first be scanned by the smartphone's biometrics. Once set up, the phone can unlock quickly by pressing your thumb or finger on the power button.
Any finger or thumb can be used, you will want to choose a fingerprint that is free of scars and burns. It is also a good idea to have more than one fingerprint scanned and saved in case your primary fingerprint becomes damaged or unusable.
Enabling the fingerprint security feature is just one of many advanced features/options available depending on your individual use and needs.
Unlocking a phone with a thumbprint is much safer, quicker, and easier than using the pin code as your fingerprint is unique to only you.
Have you used the Galaxy Z Flip 3 fingerprint scanner? What is your impression of it? Let us know in the comments below.