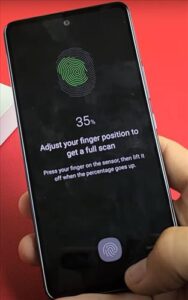 If you would like to use the fingerprint security feature to unlock your Galaxy A53 instead of a pin code, you can easily complete the setup by following the steps as shown below.
You will need to set up a pin number if you haven't already done so, prior to scanning your fingerprint. It will prompt you to create a passcode as you are setting up your fingerprint ID.
There is also a video at the bottom of this tutorial to further assist you in completing the fingerprint security setup if needed.
How to Setup Your Fingerprint ID on a Galaxy A53
Swipe Up on the Home Screen

Tap on Settings

Tap on Biometrics and Security

Tap on Fingerprints

Enter Pin Number and Tap on Next

Tap on Continue

Scan your Fingerprint using the Fingerprint Icon

Tap on Done

Fingerprint 1 will be Displayed
Does Samsung Galaxy A53 Have Fingerprint?
Yes, like most current Samsung models the Galaxy A53 has the fingerprint security feature available to it's user. You will need a passcode to add your fingerprint, this is an added security feature to protect you. You can add more than one fingerprint as well as add other individuals fingerprints to your phone, enabling them to unlock as use it.
Follow the step by step guide to activate the fingerprint security feature now.
Summary
Having the ability to use your fingerprint to keep your Samsung Galaxy A53 secure instead of a password, passcode or pattern is a fast and easy feature to apply to your phone's settings. The great thing is you don't have to create and remember a strong security code as your fingerprint is unique to you.
It is a good idea to scan in more than one of your fingerprints on your Samsung Galaxy A53 incase you damage your finger. You can add a trusted family member or friends fingerprint to your phone as well. This is helpful in emergency's and situations where you can't get to your phone and are unable to communicate your password or passcode.
If you have limited or difficulty with fine motor skills, the fingerprint security features makes it easy for you to unlock your phone.
If you found the above tutorial helpful please leave us a comment below letting us know.