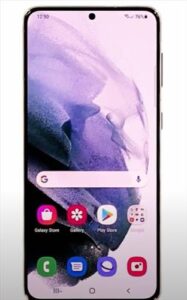 If you have a Samsung Galaxy S21 and want to take a screenshot, it is quick and easy to do.
There are two main methods to take a screenshot with the Galaxy S21 other than using the buttons or menu.
Alternatively, the virtual assistant Bixby can also be sued to take a screenshot.
It is also useful to know all the methods in case your phone buttons or screen become damaged, allowing you to use the alternate or second method not currently being used.
The methods below will work on a Samsung Galaxy S21 Plus and Galaxy S21 Ultra.
How To Take A Screenshot With A Samsung Galaxy S21 Using The Phones Buttons
Press the volume down and power button at the same time.

Screen Recorder will appear at the bottom of the screen.
You should see a flash but if you miss it, you will also know your screenshot was taken if you see the screen recorder at the bottom of the screen.
Here you can review, edit and delete the screenshot prior to saving it in your gallery.
All screenshots are saved and stored in your Gallery automatically. You can review your past screenshots anytime by opening up the app.
For the palm swipe method, we are going to turn on the setting to enable this feature.
How To Take A Screenshot With A Samsung Galaxy S21 Using a Palm Swipe
Select Settings.

Select Advanced features.

Select Motions and gestures.

Turn on Palm swipe to capture.

Find Screenshots in the Gallery app.
Summary
Using the screenshot option available on your phone can be used for various reasons.
It is a convenient way to save a post, photo, website, movie, or song title, just to name a few. It is also nice to have the option to choose between using the phone's buttons or the palm swipe.
If you have issues with fine motor skills, the palm swipe makes it easy for you, as you don't need to use the phone's buttons.
If you find the palm swipe feature is not working, first try and restart your phone.
You can also do a hard factory reset to see if it fixes the issue. Keep in mind if you do a hard reset, it will erase all user data.
Have you had any issues taking a screenshot with a Samsung Galaxy S21? let us know in the comments below.