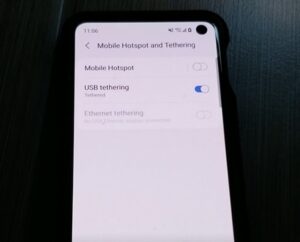 Tethering a Galaxy S10 to a Windows PC for an internet connection is quick and easy to do.
When using a cellphone data plan so, be sure not to use a huge amount of data unless your plan has unlimited data.
What is Galaxy S10 and PC Tethering?
A Galaxy S10 tethered to a PC will allow the PC to share the smartphones internet connection.
This can be of benefit when there is no standard internet connection, and the phone's data plan can be used instead.
Keep in mind this can use large amounts of data, so depending on the cell phone plan, it may be limited.
Checking emails and similar will not use too much data, but websites such as YouTube will run up a data plan quickly.
The only thing needed is the USB-C data cable to plug into the computer USB port and smartphone.
The Galaxy S10 uses a USB-C data cable type which is usually included in the box or can be bought.
Below are the steps to tether an S10 to a computer, along with pictures.
How To Tether Galaxy S10 to a Windows PC for an Internet Connection
Connect the USB-C Data Cable to the computers USB Port and the S10 smartphone.

On the Galaxy S10, go to Settings (Gear Icon).

Select Connections.

Select Mobile Hotspot and Tethering.

Set USB tethering to On.

You should now be connected to the internet using your cellphone plan.
Summary
To tether a Galaxy S10 to a Windows PC simply, connect the USB-C cable to the PC and turn on tethering in the smartphone options.
Beware, some cell phone carriers do not allow this option, so be sure to check with your provider.
Tethering allows for a quick temporary internet connection when the main internet goes down.
Of course, it can be permanent as long as you have a good data plan, as it can use up all the data on a standard plan.
If you do have a good plan, the feature can also be used with a laptop while on the go, camping, or in similar scenarios.
Have you used tethering with a PC and had any issues? Let us know your thoughts below.