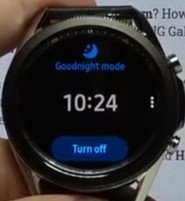 Getting a good night's sleep without interruption is important to our overall health and work productivity. If you have notifications turned on, on your Galaxy Watch you will want to turn on Goodnight/Bedtime mode to prevent notifications while you sleep.
When you turn on Goodnight/Bedtime Mode it will turn off the following features: Watch Always On, Screen Wake-Up, and System Sounds but you will still get alarms you have set.
How to Turn On Bedtime Mode on a Galaxy Watch 3 and 4
Swipe Down On the Face of the Watch

Tap on the Moon Icon for the Galaxy Watch 3

Tap on the Bed Icon for the Galaxy Watch 4

Goodnight/Bedtime Mode Activated
To Turn Off repeat the steps Above and Tap on Turn Off
How Do I Put My Samsung Watch 3 Into Sleep Mode?
If you are annoyed with notifications and the bright illuminating light that displays with those notifications you can simply turn on goodnight/bedtime mode on your Galaxy Watch.
You simply need to swipe down and tap on the goodnight/bedtime icon when going to bed. When you wake up simply repeat the same steps to turn it off and start receiving notifications.
Summary
Preventing interruptions from notifications on your Galaxy Watch while you sleep is simple. When you tap on the sleep icon (Moon or Bed), it automatically turns on goodnight/bedtime mode.
If you have a Galaxy Watch 3 you will need to turn it off goodnight/bedtime mode when you wake up to start getting notifications. If you aren't sure if you turned it off you can simply swipe down on the face screen of your watch, if it is illuminated it is on. Simply tap on the icon and tap turn off to start getting notifications on your Galaxy Watch.
If you have a Galaxy Watch 4 and a regular sleep and wake schedule you can go into your Galaxy Wearable app and open settings, advanced features, and turn on a sleep schedule under goodnight/bedtime mode that will automatically turn this feature on and off for you.
If you found the above tutorial helpful please leave us a comment below letting us know.