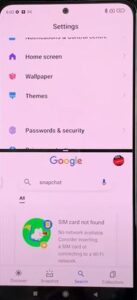 The Xiaomi Redmi 10 Pro is a very nice Android smartphone with many built-in options and features.
One of those features is the split-screen option, which is simple to use and allows you to have two apps open and running at the same time.
Before starting, you will want to find what shortcut button your split-screen is set to or if it has been set at all. The Xiaomi Redmi 10 Pro will come with some shortcut buttons already set by the manufacturer. If you need assistance with finding the button shortcuts, you can find help here on how to change button shortcuts on AaXiaomi Redmi Note 10 Pro.
You will need to use the shortcut button you chose for the split screen feature. This may be different than the one we are showing but will have the same result.
How To Use Split Screen on a Xiaomi Redmi Note 10 Pro
Open the first App to be in the split screen.

Long Press the Home Button and the split screen will apear.

Open the second App to fill the split screen.

Resize the screen of needed.
How To Adjust the Split Screen on a Xiaomi Redmi Note 10 Pro
Once the split screen is enabled, you can adjust the size of the image displayed on the screen using the slider on the display.
This is helpful if you are working with one image and need the second image or screen for reference, making it easy to go back and forth without closing the second screen.
When done using the second screen, just swipe all the way down using the slider.
Summary
The Xiaomi Redmi 10 Pro offers many different built-in features to fit your busy life. Our smartphones have become a huge part of our daily life, taking it everywhere we go.
We use it to communicate, search the web, play games, watch shows, and even complete work related to our jobs.
The split-screen feature allows us to multitask just as we would if we were sitting in front of two monitor screens at our computer desk.
If you found the above steps helpful, leave us a message below, letting us know.