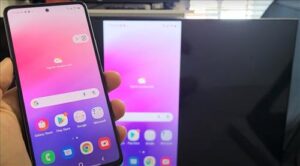 If you are like most individuals, your phone is your mini-computer, having a lot of important content saved and stored on your phone. This content can include personal, work, and school information. Using the wireless screen mirroring feature available on your Galaxy A53 allows you to share that information with others using a TV.
There is also a video at the bottom of this post to further assist you with a video walk-through if needed.
How to Wireless Screen Mirror a Galaxy A53 to Your TV
Swipe Down from the Home Screen

Swipe Down Again

Tap on Smart View

Tap on the TV you want to Mirror

Tap on Start Now

Select Allow on TV using TV Remote

A Message will Appear on Your TV, "Connecting to Galaxy A53."

Mirroring Complete, you can Adjust the Screen Size

Disconnect using the Smart View Floating Icon
Summary
Like most Samsung devices, the Samsung Galaxy A53 allows you to mirror your phone to your smart TV. This allows you to open and share any of your app's content installed on your phone. This includes music, photos, videos, word, and PowerPoint documents.

Places and Ideas Where You Can Use Screen Mirroring
The screen mirroring is great for family nights or parties. You can play group electronic board games and watch movies without any additional devices or projectors.
This also comes in handy when traveling and no gaming console is available, your kids can connect their phone to any smart TV and play their favorite video game.
If you have security cameras, you can view the camera's images enlarged on your smart TV for a better view when concerned about the video's content.
This feature allows for a larger area to complete work and school projects, especially those that need to be completed in teams or groups. You can also use the split-screen feature on your Galaxy A53 and work on two different assignments or projects.
If you found the above tutorial helpful or have a favorite use for screen mirroring your Galaxy A53 please leave us comment below letting us know.