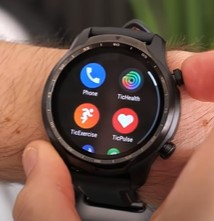 If you are thinking of purchasing a smartwatch to pair with your Samsung Galaxy S22 but aren't quite sure which one would be the best fit for your everyday use then this post can help you narrow down your choices.
How To Choose the Best Galaxy S22 Smartwatch
Your decision when choosing a smartwatch should be based on how you are going to use the smartwatch. Smartwatches have many advantages besides just telling you the time and date. You can answer calls, receive and reply to messages, monitor health status such as vital signs; heart rhythm, and sleep quality, and even find your lost phone or keys just to name of few of the many features that come with a smartwatch.
If you are purchasing for health reasons you will most likely want to spend a little more to get additional health data vs the standard that comes with most smartwatches.
What is the best smartwatch right now?
The best smartwatch available now is truly subjective, as each individual will have a style, brand, or feature preference unique to their daily use and needs of the smartwatch.
The best smartwatch should have some basic features such as durability, battery life, charging time, and compatibility with your smartphone.
Our top pick for the best smartwatch of 2023 has to be the Samsung Galaxy Smartwatch 5 as Samsung has partnered with Google, supporting Google Wear OS 3 and its apps. To use this watch you will need an android device as it is not supported by Apple users.
*This website used affiliate links, and as an Amazon Associate, we earn from qualifying purchases at no cost to you.
Our Picks for Best Smartwatches for a Galaxy S22
Samsung Galaxy Watch 5


Available here on Amazon
The Samsung Galaxy Watch 5 is the most popular Android smartwatch of 2023.

It is the follow-up to the Watch-4, which still works very well with the Galaxy S22.

The Watch 5 has many new features, such as a bigger battery for longer times between charges, a bezel redesign, and much more.

The one downside is it does cost more compared to other options.

Samasung Galaxy Watch 4


Available here on Amazon
Style
The Samsung Galaxy Watch 4 came out in early 2022 and has many of the same features at a lower cost than the Watch 5. You can choose between a 42 mm or 46 mm band size and choose from a variety of different band styles. You can keep the classic look with the Galaxy Watch 4 classic made of stainless steel. You can take phone calls, respond to text messages, and change out the watch faces to your specific style.

The battery life depends on your use of the watch, with Samsung promising three days before being charged, but most individuals are reporting 24 hours with the display always on and 48 hours with the display off before needing a charge. Charging is fast, and you can have it fully charged in two hours. It is also water-resistant up to 50 meters but should not be submerged for long periods.

You can use the health and fitness tracker to track your workouts, participate in group challenges, check heart rate and oxygen saturation levels, and check heart rhythm with the ECG and blood pressure (not in the USA). The Galaxy watch's sensor can scan your body's metrics, such as weight, body mass, fat mass, muscle mass, skeletal muscle, BMI, BMR, and body water, through a technology called Bio-electrical Impedance Analysis (BIA). The detection of a hard fall and sending an emergency SOS message to EMS if no response after 60 seconds is still available on the Galaxy Watch 4.

Samsung has partnered with Google with this watch to make the first Google Wear OS 3 Smartwatch offering Google Wear OS Support.

TicWatch Pro 3 GPS


Available here on Amazon
Style
This smartwatch stands out, and is sharp-looking with stainless steel bezel. Looks similar to the Galaxy 3 watch.
Battery Life
Provides 3 days of battery life in smart mode and 45 days in Essential mode. This is an excellent smartwatch for those wanting to monitor their vital signs without any interruptions.
Features
The TicWatch Pro 3 GPS is a google created smartwatch so you can download thousands of different apps using the google play store. It offers similar features to the other smartwatches such as the fitness and health tracker. Allowing the wearer to monitor heart rate oxygen saturation, sleep cycle, breathing exercises when stressed and picks up movement, and tracking your exercise.
You can customize the faceplate, built-in microphone, speaker, and GPS.

Huawei Watch GT2 Pro


Available here on Amazon
Style
The Huawei watch GT2 Pro offers a lightweight titanium classic-looking smartwatch. You change out the watch bands and faces to fit your style and preference.
Battery Life
It outworks the other smartwatches and offers over a week on a single charge even with the display always on enabled or two weeks with the display always disabled.
Features
Answer calls, listen to music, and take a picture using the Huawei Watch GT2 Pro Bluetooth ability. It also offers over 100 workout modes, personal coaching in golf, and snowboarding skiing performance tracking.

Health Tracker offers oxygen consumption during activity and oxygen saturation throughout the day. Like the other smartwatches, it monitors sleep cycles and heart rate. Offers severe weather and GPS alerts, providing accurate place marking of locations. You can also download and install third-party apps with this device.

If you are into sports, activities, and your health but also want the ability to use your phone then this may be the smartwatch you are looking for.

Huawei Watch GT2, GT2e


Available here on Amazon

If you like the Huawei GT2 Pro but don't want to spend a lot on a watch then the Huawei Watch GT2 may be the right fit for you.
Style
The Huawei Watch GT2, Gt2e has many of the same features as the Huawei Watch GT2 Pro. What it doesn't have is the lightweight titanium design, instead, it has a stainless steel design. The pixel display is the same both producing great visual quality. The always-on display offers 4 different always-on vs six offered on the pro.
Battery Life
It outworks the other smartwatches and offers over a week on a single charge even with the display always on enabled or two weeks with the display always disabled.
The battery life is comparable to the pro but you will need to use wired chargers vs the wireless that comes with the pro. The other big difference is the GT2 does not allow the installation of third-party applications.
Features
Fitness and Health Tracker offers monitoring of heart rate, oxygen saturation, and sleep cycle. It can track your workouts and record activities, and breathing exercises, and offers stress reduction assistance.

Honor Watch


Available here on Amazon
Style
The Honor Watch is military-grade weather tested to withstand extreme weather conditions. Built-in satellite GPS so you can easily track where you have been and where you are traveling. No watch faces gallery for those living in the US but is available in different regions.
Battery Life
The battery can last up to 25 days even with many of the apps running and on with typical usage and 14 days for heavy usage.
Features
Fitness and Health Tracker offers ski performance, professional workouts, and the ability to customize your workout. As with the previous smartwatches, it monitors heart rate, sleep cycle, and oxygen saturation levels. Answer incoming phone calls and listen to music with the built-in microphone and speaker, keeping your hands free during activities.

Amazfit T-Rex Pro


Available here on Amazon
Style
Amazfit T-Rex Pro is a military-grade tested smartwatch that is water-resistant up to 100 meters. Like the Honor watch GS Pro it is weather tested and can withstand extreme heat and cold. It also offers Satellite navigation with increased accuracy. Check messages, take calls, set alarms, and listen to music.
Battery Life
Battery life with typical usage is around 18 days and 9 days with heavy usage and a charge time of up to one and half hours.
Features
The Fitness and Health Tracker comes with the standard monitoring of oxygen saturation, heart rate, and sleep cycle. This watch can pick up activities related to eight different sports and record your workout.

Amazfit Watch GTR 2e, GTS 2e


Available here on Amazon
Style
Amazfit GTS 2e offers a budget-friendly smartwatch with a ton of the same features found in the other smartwatches. You can personalize your faceplate with hundreds of different themes to choose from. Waterproof up to 50 meters. Set alarms, check the weather, and find important reminders by customizing your screen.
Battery Life
Battery life for typical usage is 14 days and 24 days for basic usage.
Features
Fitness and Health Tracker offers up to 90 different sports modes and monitors heart rate, oxygen saturation, stress measurement, and sleep cycle. Includes built-in speakers and a microphone to answer phone calls or use voice assistance.

Samsung Galaxy Watch 3

Available here on Amazon
Style
The Samsung Galaxy Watch 3 offers two different sizes, 41 and 45 mm with a classy look. It is water resistance up to 50 meters, is titanium, has a beautiful colorful display, a built-in microphone and speaker, and thousands of changeable watch faces.
Battery Life
Battery life depends on if you have always-on enabled as this will decrease the battery life by around 24 hours, with the always-on disabled it should last 48 hours. It takes around 2 hours to charge from 0 to 100 percent. Link your phone and find it using your Samsung Galaxy smartwatch if lost or misplaced.
Features
Has the ability to track fitness and health status such as oxygen saturation, heart rate, and heart rhythm. The Samsung Galaxy Watch 3 allows you to make emergency call's if you are experiencing a life-threatening event such as a heart attack, stroke, or fall. This watch also can detect if you have had a significant fall and contact EMS with your location automatically.
Summary
The use of a smartwatch can help improve health with a built-in fitness tracker and alert you to changes in vital signs and heart rhythm that would need emergency medical assistance, potentially saving your life or a loved one's.
If you enjoy traveling, it has never been easier with the right smartwatch. You can set your destination on your smartwatch and it will assist you in navigating to your destination. This is a nice safety feature as you are not looking at your smartphone or navigation screen allowing you to keep your eyes on the road if traveling in a car.
For those individuals who like to stay up to date with their social media pages such as Facebook, Instagram, and Twitter just to name a few, get notifications and reply with your smartwatch wherever you are at. You can watch your favorite YouTube channel and play music without wasting the battery life of your Samsung Galaxy smartphone.
If you are wondering why we have not listed the Samsung Galaxy Smartwatch 4 recently released, it is because it is still too new, needing adequate time to see how it performs and rates compared to the Galaxy Smartwatch 3. We will update you when more information is obtained.
If you found this post helpful or already have a favorite smartwatch please leave us a comment below letting us know.
*The owner of this website, androidyii.com is a participant in the Amazon Services LLC Associates Program, an affiliate advertising program designed to provide a means for sites to earn advertising fees by advertising and linking androidyii.com to Amazon properties.