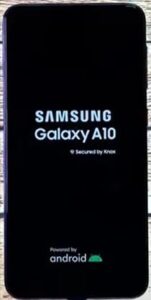 If You use a Samsung Galaxy A10 and are trying to send a text message and you keep getting errors, or you find it strange that you have not received any text messages all day, there may be an issue.
It could be a number of reasons that stop you from not being able to receive or send a text message.
Be sure to check if there is a service outage in your area as this would cause the problem.
Below are the most common causes when a Galaxy A10 is not sending or receiving text messages.
7 Fixes for a Galaxy A10 That Is Not Sending or Receiving Text Messages
Check with Your Service Provider

Contact your service provider and find out if it is a network or account problem and not your phone. This could be the case if you have recently changed phone numbers. This should be the first thing you do before attempting any of the other steps below. You can also go into a Samsung store or call and ask about changing your phone message center number or restoring SMS settings.

Force A Reboot

Rebooting the phone like many devices often clears out an error and gets it working again.

To reboot the Galaxy A10 press and hold the volume down and power button at the same time.

You will hold both buttons for 10-15 seconds until the Samsung logo appears. Release the buttons and the phone will reboot itself.


When you Reboot your phone it refreshes the memory and reloads previous services if the issue happened without any known causes. Once your phone has rebooted check to see if you can now send and receive text messages. If you find this did not fix the issue continue to the next step and solution to fix the issue.

Reset Network Settings

The network settings may need to be reset and reconnect to the system.

Resetting your network will remove all previous network configurations. It will not remove any other data stored on your phone it will only delete the WiFi and Bluetooth connections you previously used. Once done reconnect to your network and see if you can now receive and send text messages.

How to To Reset the Network Settings on the Galaxy A10
Swipe down on your screen and select the Setting gear icon.

Select General Management

Select Reset

Select Reset network settings

Select Reset Settings

Enter pattern or password if enabled

Select Reset
Clear the Cache
Clearing your cache will free up unused space and junk files, allowing your phone to work more efficiently. After clearing your cache, see if you can send and receive text messages before continuing to the next solution. Don't select Clear data unless you want to permanently delete all your app's data, including account and user names. Make sure you back up any data or user profiles and information before doing this.
How To Clear the Cache on the Galaxy A10
Select the Settings gear icon

Select Apps

Scroll down and select Messages

Scroll down and select Storage

Select Cache and Clear
Turn Airplane Mode On and Off Several Times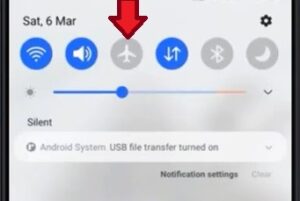 Many people have said enabling and disabling the airplane mode can fix the disconnect and stalling of messages by rapidly turning it off and on.
Enable Premium Text Messages Services
Prior to enabling the premium text message service, make sure you check with your network provider to see if there will be additional fees or if it is included in your phone plan if this feature is enabled.
How To Enable Premium Text Messages Services On the Galaxy A10
Select the Settings gear icon

Select General Management

Select Apps

Select the three vertical dots

Select Special Access

Select Use Premium text message services

Select Messages

Select Ask, Always allow when sending messages.

Check to see if you are now able to receive and send messages.
Check The Correct Number Is Listed In Message Center
It could be you are not using the correct carrier number, you can search google for this number, but I have found incorrect information with regards to the correct number. I recommend contacting your phone carrier and getting the number from them prior to changing it using the steps below.
How To Correct Number In Message Center Galaxy A10
Open Messages APP

Select the three vertical dots

Select More settings

Select Text messages

Select the Message Center

Enter the correct number provided by your carrier and select Set
Factory Reset
This should be the last resort, as completing a factory reset on your Galaxy A10 will permanently delete all data and return your phone to like new. Before completing the factory reset, make sure you have saved all data by backing it up. You will also want to remove your Google and Samsung account information to prevent being locked out after the reset.
How To Factory Reset a Galaxy A10
Press and hold the volume up and power button at the same time.

When the Android logo appears, release both buttons.

Scroll down to Wipe data/factory reset using the volume down button and select using the power button.

Select Yes with the volume down button and confirm using the power button.

Select Reboot system now using the power button.
Summary
If your Galaxy A10 is not sending or receiving text messages, this can no doubt be very frustrating.
The first thing to do is make sure there is no site-wide system failure affecting all cell phones.
Next, reboot the phone to see if the error clears.
Resetting the network settings also can clear out issues and get the text messages working again in some scenarios.
The next thing to try is to clear the cache, which is also known to help in some cases.
Likewise, turning on and off airplane mode has been reported to help.
The last this to try is a complete factory reset which will erase all data and set the phone as it was when new.
A factory reset will delete all data including any pictures, files, phone numbers, and text.
Have you had a Samsung Galaxy A10 that will not send or receive text messages? Let us know any fixes or problems you have below.