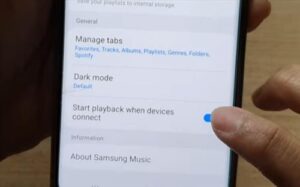 If you have a Samsung Galaxy series smartphone and it automatically plays music when it connects to a Bluetooth device, it can be disabled.
The music player, by default, will start to play music once it connects by Bluetooth.
For example, when a galaxy smartphone music player app is connected via Bluetooth to a car stereo, it will automatically start to play the music.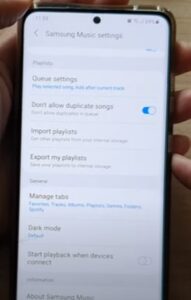 This can be annoying and can be turned off with the steps below.
The steps below use the Samsung Music app as an example, which comes with all galaxy smartphones.
If you use a different music player, the steps should be similar.
How to Stop Music from Playing Automatically When Connecting to Bluetooth Galaxy
Open up the Samsung Music App

Select the More button at the top right (Three Dots)

Click on Settings

Scroll down, find Start Playback when Devices Connect and turn it off.
Summary
The automatic playing of music by the music app on the Samsung Galaxy smartphone can be annoying.
This includes the Samsung Galaxy S10, S20, S21, and S22 and more Android smartphones.
It can be turned off from settings by swiping the tab off on the option "Start Playback when Devices Connect."
If you are using another app to play music, such as the YouTube Music app, the steps will be similar.
The YouTube Music app has the option labeled as "Allow External Devices To Start Playback" and can also be turned off.
This is only an example of the most commonly used apps to play music from Samsung Galaxy smartphones.
Other music apps will have similar options to turn on or off to match a user's preferences.
If you know of better solutions, please let us know in the comments below.
Have you had issues turning off the music app auto-playing music when it connects by Bluetooth to other devices? Let us know the issue below.