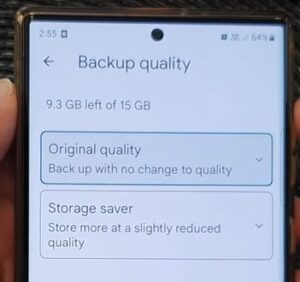 The Samsung Galaxy smartphones have an option to save photos with a slightly reduced resolution, which can save greatly on storage space.
This is a good option if you constantly run out of storage.
Currently, Google allows for up to 15 GB of free storage at no cost but will charge if storage goes over 15GB.
The photos and videos are still good-quality images, just not the 4K that smartphone cameras now use.
Samsung Image Back Up Quality Options
Original Quality: Back up with no changes
Storage Saver: Store more at a slightly reduced quality
What Happens to the Photos and Videos if Storage Saver Option is Selected?
Photos will be Compressed to 16 MP
Videos Will Be Compressed to High Definition
When selected, the images will be set to 16 MP (5312×2988), which is a very good image quality. They will be good for quality prints up to 24×16 inches.
Videos will be in High Definition but not 4K.
Below are the steps to set the options using a Galaxy S23. The option location should also be the same for other Samsung Galaxy smartphones.
How to Set Photos and Videos To Original Quality or Storage Saver Mode
Swipe down from the top of the screen and select Settings (Gear Icon).

Scroll down and select Account and Backup.

Select Backup Data.

Select Photos and Videos

Select Backup Quality

Select Original Quality or Storage Saver.