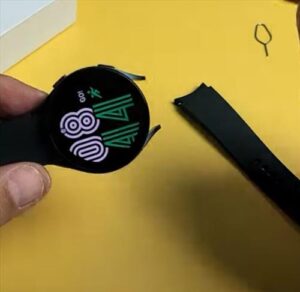 If you have a Galaxy Watch 4 but don't like the band that came with it, need a replacement due to damage or normal wear and tear, or need a watch band that fits your professional attire, you can easily change it out with a new one.
Galaxy Watch-4 46mm vs. 42mm Band Size
There are two different sizes for the Galaxy Watch 4, including the 46mm and the 42mm.
When ordering new bands, be sure to order the correct-sized band.
Once the correct-sized band is bought, it can replace the old band.
The difficult part is choosing which watch band style to wear, to help see the Best Band Strap for 40mm Galaxy Watch 4 and Best Band Straps for 44mm Galaxy Watch 4.
There is also a video at the bottom of this post for a video walk-through to further assist you if needed.
How to Change and Replace the Band Straps on Galaxy Watch 4
With the Watch Flipped Over, Pull Down on the Pin.

Gently Pull Band Out.

The band will slide out.

With the New Band Insert the Bottom Pin into the slot first and stabilize it.

Pull Down on the Top Pin and slide or move it into the top pin slot.

You may hear a Click, pull gently on the band to make sure it is in place.
Summary
The Galaxy Watch 4 is professional and sharp-looking. Accessorizing it with a new watch band can compliment your overall look and attire. There are watch bands for every occasion, such as professional, casual, sports, and special events.
You can find some amazing Galaxy Watch 4 Bands at inexpensive prices, allowing you to have a variety of bands.
If you have large hands or difficulty with fine motor skills, it may be difficult to pull or slide the small pin connecting your band to your watch down. If this is the case, you can use a paper clip, SIM Card Ejection Pin, or have someone with smaller hands help you change out the watch band.
If you found the above tutorial helpful or have any helpful advice on changing out the watch band, please leave us a comment below letting us know.