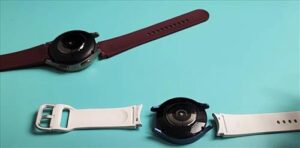 The Galaxy Watch 5 comes with a variety of bands you can buy and change out depending on your style.
A band can be replaced with a new one by pushing in on a small pin that holds the band in place.
What Size Band Does the Galaxy Watch 5 Use?
40mm Band Size
44mm Band Size
The Galaxy Watch 5 Comes in 40mm and 44mm sizes, but you can also go a little larger with the Galaxy Watch 5 Pro (45 mm).
Be sure to purchase the correct band size, as they are not interchangeable.
Below are the steps to change out the band, which is the same method as previous models.
How to Replace the Band Straps on a Galaxy Watch 5
With the Watch Face Down, Pull Down on the Pin.

Angle and Pull the Top of the Band Out.

The Bottom Part of the Pin will Now Slide Out.

Line Up the New Band for Correct Attachment.

With the New Band Insert the Bottom Pin into the slot first and stabilize it.

Pull Down on the Top Pin and Slide or Move the Pin into the Top Pin Slot.

You May Hear a Click, Pull Gently on the Band to Make Sure it is in Place.

Rotate the Watch and insert the second strap into the Bottom Pin's slot.

Pull Down on theTop Pin and Slide it into the Slot.

Pull Gently on the End of the Band Straps to Make Sure it is Locked into Place.
Summary
Changing out your Galaxy Watch 5 Band can be a little difficult if you have large fingers and no nails. To make it easier, you can use a flat piece of metal, such as a nail file or nail clippers, to pull down on the small metal pin.
Make sure you have lined up your watch prior to starting, so you don't end up placing your bands on the wrong end or upside down.
Depending on if you are right or left-handed, you will want to rotate the watch to your dominant hand for easy attachment.