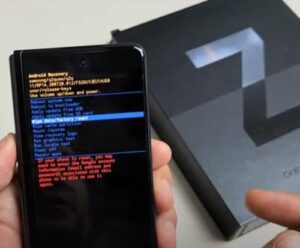 Factory resetting a Samsung Galaxy Z Fold3 is easy to do with a few steps.
If the phone has a password, fingerprint scan, or security lock on the smartphone will be needed and will not erase any security placed on the phone.
A factory reset is usually done when the phone is sold or given away and sometimes to help clear an error.
When a factory reset is done, all user data will be deleted, including pictures, text, phone numbers, and apps.
The smartphone will be set back to the original state it was when new and first bought.
If you have any data on the phone you want to keep, be sure to copy it and back it up before doing a reset since it will be gone.
How to Factory Reset a Galaxy Z Fold3
Power off the phone by pressing the side button and selecting power off.

After the phone is off, press and hold the Power and Volume Up buttons at the same time.

Once the Samsung Logo appears, let go of the buttons.

The phone will boot into an Android Recovery screen.

Using the volume down button, go to the option wipe data/factory reset (Volume up and down are used to move around the screen).

After the option is selected, press the Power Button to select the option.

A warning will be displayed; select Force Data Reset.

Select Reboot Now.

The phone will take 2-3 minutes to delete all the data and reboot.
Summary
Doing a factory data reset on an Android smartphone such as the Galaxy Z Fold3 is necessary to get rid of all the data on the phone.
Deleting all data can be necessary at times, mainly when the phone will be sold or given away.
Wiping all the data can also be done when certain errors occur, but care should be taken when done this way.
The main purpose of a factory reset is to set the phone back to the way it was when first bought with only the factory data installed.
Keep in mind the password or fingerprint security will be needed for the reset to be applied.
Have you done a factory reset on your Samsung Galaxy Z Fold3? Let us know your experience below.