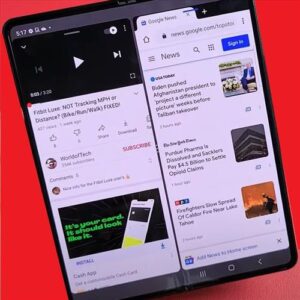 The Samsung Galaxy Z Fold 3 is an awesome smartphone with many different features available to the user. The split-screen feature allows the user to have two different apps running at the same time. There may be different situations that this feature can be a great resource when multitasking on the go and you don't have the home or office computer and screens available for use.
How To Use Split Screen on a Samsung Galaxy Z Fold 3
Open the first App to fill the screen.


We are going to use YouTube for this tutorial, but you can open any app you want to use.

Select the home button.


With the app open, select the home button to be taken back to the main screen.

Select the three vertical lines.


This is going to open up the most recently used app.

Long hold the app


Once you select which app you would like to use the split screen with from your most recent apps, press and hold the app to open the split screen option.

Select Open in split screen view.

Select the second App to fill the screen.

Split Screen Complete.


You can also adjust the size of your two screens, making one larger or smaller by pressing and sliding the three dots that divide your two screens. To close one screen and only have it visible, simply slide the divider all the way across or down, depending on the position of your phone.
Summary
Using your Samsung Galaxy Z Fold 3 split-screen feature allows you to run two apps side by side, making it easier to complete tasks and assignments. You can play and watch a game tutorial at the same time or play two games at the same time. Many of us enjoy two monitor screens in our work or home office; this split-screen feature allows you to always have that option available as your smartphone goes where you go. When the phone is closed, you can continue to use the split-screen using the same methods shown above. When your phone is reopened, the same screens are still visible for use.
If you found the above tutorial helpful, please let us know by leaving a comment below.
If you have some favorite uses for using the split-screen feature on your Samsung Galaxy Z Fold 3, leave us a comment letting us and others know.