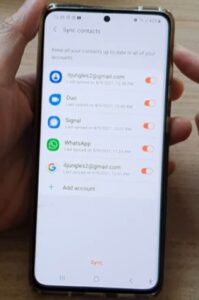 The Samsung Galaxy S21 is an Android smartphone with many advanced options and features.
One such feature is the ability to sync contacts across multiple sources to keep all the contacts up to date.
This helps to save time from manually going to each contact source and updating them individually one at a time.
This includes Contacts in Gmail, Signal, Whats-App, Duo, and many more.
The option can also be turned off if it is causing an issue.
Individual sources can be enabled or disabled if you want to turn off a single source from updating the phone and other apps.
Below are the steps to enable or disable the sync contacts option with a Galaxy S21, S21 Plus, and S21 Ultra.
How to Enable or Disable Sync Contacts Galaxy S21
From the main screen, swipe up and find and click Contacts.

Click the More Button on the top left (Three lines).

Select Manage Contacts.

Select Sync Contacts.

A list of sources will be displayed that the sync can be enabled or disabled with a swipe bar.

Once the sources are enabled or disabled, click the Sync button at the bottom of the screen.
Summary
If you find yourself manually updating contacts with your Samsung Galaxy S21 across multiple sources, there is a sync option that will do it automatically.
Syncing the contact sources will update phone numbers and other contact information when the app is updated.
This can be a big-time saver, especially if there are many contacts that are updated often.
Sometimes the option can also cause an issue when certain sources do not update correctly or cause other issues, in which case they can be turned off.
The option usually does not cause any issue, but with the multiple apps being used, there can be some that cause a specific problem.
If one of the sources does cause an issue, follow the steps above and disable it.
Have you used the sync contacts option with the Samsung Galaxy S21? Let us know your thoughts below.