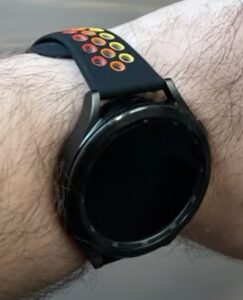 The Galaxy Watch 4 has a variety of watch bands available to fit your style and everyday needs. When you are selecting a watch band you will want to pick a band strap that is durable, visually appealing, compatible with your Galaxy Watch 4 size, and relatively easy to install and uninstall.
We have listed our top choice for the best Galaxy Watch 4 Bands based on price, quality, durability, customer service, our experience, and other consumers' experiences using the bands.
*This website used affiliate links and as an Amazon Associate we earn from qualifying purchases at no cost to you.
Best Band Straps for 40mm Galaxy Watch 4
Aresh Leather Band

Pros

A Great Mix of Price and Quality
Extremely Durable
Easy to Install and Uninstall
Stainless Steel Buckle
Great Customer Service

Cons

Leather Needs Broken-in
No Extra Pin

Looks great on both men and women, and fits a wrist size between 6.2″ and 8.2″. It is available in two colors, black and brown, and fits any style.

It also fits a Galaxy Watch 4 Classic 46mm and 42 mm.

With the Galaxy Watch 5 coming out soon, you will be able to continue to wear this band if you have the Galaxy Watch 5 40mm, 44mm, and the Galaxy Watch 5 Classic 46mm.

Nereides

Pros

A Great Value and Quality
Extremely Durable
Comfortable and Breathable
Flexibility
Stainless Steel Hardware

Cons

May be Difficult to Install

If you enjoy the outdoors and athletic sports; you will want to get this band. It has a flexible, yet comfortable fit, not sliding up or down the wrist. If your wrist size falls between recommended sizes, you will find this band is not too big or too small but fits just right.

Fits wrist sizes between 6.7″ and 8.9″, Velcro industrial grade design.

If you are like us, all bands take a few minutes to install, this band is worth the time attaching to your Galaxy Watch 4.

You have six colors to choose from, Army Green, Black, Blue, Camouflage, Grey, and Orange.

This band is so comfortable you will want to have one in each color.

Click Lerobo

Pros

A Great Mix of Price and Quality
Extremely Durable
Comes with Extra Pin
Breathable and Lightweight
Easy to Install and Clean

Cons

Can Irritate Sensitive Skin

This band is made of soft, silicone and comes in a variety of 12 different colors to choose from.

Compatible with a variety of different Galaxy Watch Series and Sizes. Make sure to check your watch's compatibility with the band before purchasing.

Has a long strap that fits a small wrist size between 5.9″ to 7.4 " and a large 6.7″ to 8.6″, adjustable by using air-holds.

Acestar Bands

Pros

A Great Mix of Price and Quality
Extremely Durable
Link Removal Tool
Easy Resizing
Customer Service

Cons

Difficult to Install Band
Heavy Band Material

If you are looking for a classic, timeless; elegant piece, look no further.

Although this band fits a wrist size of 5.7″ to 8.2 ", it is better suited for those with a larger wrist size.

The Band comes with three pins, and one tool to remove the links if resizing is needed.

This watch band is stainless steel, it will be a little heavier than some of the other bands depending on the size of your wrist.

Intoval Band

Pros

A Great Mix of Price and Quality
Genuine Cowhide
Easy to Install
Customer Service
360 day Refund/Replacement

Cons

Not Suitable for Larger Wrist
May Arrive Discolored

Made with real cowhide leather, giving it a traditional classic look and feel.

Fit a wrist size between 5.7″ and 8.1″ and comes in five different colors.

Fits more comfortably over time, after it has been broken-in.

Meliya Metal Band

Pros

A Great Mix of Price and Quality
Extremely Durable
Easy to Install
Breathable
Customer Service

Cons

May Loosen Throughout the Day
Can Come Undone if Caught on Something

This watch band is classy, elegant, lightweight, and comes in seven different colors.

Super lightweight and fits wrist sizes between 6.3″ and 9.1″.

It is easy to put on and secure using the two magnets. Great for those with limited fine motor skills.

The band is made of stainless steel and is extremely durable.

Joyozy Resin Bands

Pros

A Great Mix of Price, Style and Quality
Extremely Durable
Customer Service
Link Adjusting Tool
Easy to Install

Cons

Extra Links Not Available

Beautiful well-made band for smaller wrist sizes measuring between 5.5″ to 7.8″.

Comes with four stainless steel pins, an adjustable link tool, and instructions.

Vibrant colors and patterns that do not fade with time.

Fits a variety of Galaxy Watches, check your Galaxy Watch's compatibility before buying.

Choose between ten different lightweight styles.
Do you have a favorite Galaxy Watch 4 band? Leave us a comment below letting us know.
*The owner of this website, androidyii.com is a participant in the Amazon Services LLC Associates Program, an affiliate advertising program designed to provide a means for sites to earn advertising fees by advertising and linking androidyii.com to Amazon properties.