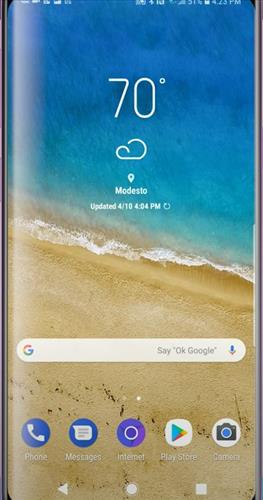 Like most smartphones the Galaxy S9 allows you to customize the phone's background screen display. You can change both the background on your smartphone as well as the icons and apps. You can find hundreds of themes by searching the Samsung Galaxy Store or Google Play Store for Featured, Top and New themes that are available to download. You can find free themes and some require a purchase of the theme for a small price.
How To Change the Theme on a Galaxy S9
Long Press or Tap and Hold Down on an Empty Spot on Your Screen

Select Themes

Select My Themes on the Top of Screen or Select a Featured, Top or New Category

Select Apply

Select Apply to Confirm

Applying Theme Downloading

New Theme Complete
How To Change My Samsung Galaxy Theme Back To Normal?
If you have changed your Samsung Galaxy Theme and are finding it difficult to use, changing it back to the original theme is simple.
Go back into my themes, this will be displayed at the top of the Samsung Themes. Scroll through my themes or my stuff until you locate the theme called default. Select the default theme and apply. Your theme is now back to its original/normal display.
Summary
Prior to purchasing any theme, you may be able to try it out for a short period for free prior to purchasing it. This is the best option as you are less likely to purchase a theme you thought you would like but find the additional features are annoying or don't fit your needs.
After choosing and downloading your theme we highly recommend testing it out. You will want to make sure the theme is easy and visually appealing for your daily use. You will want to open your most commonly used apps such as text, phone, mail, etc. You may like the way the background looks but find that the changes to your apps make it hard on the eyes or difficult to use and won't know this until you've tried it for at least a day. Follow the simple steps below for an easy install of your theme on your own.
Do you have a favorite theme? Leave us a comment below letting us know.