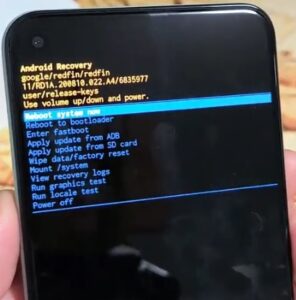 Doing a factory reset on a Google Pixel 5 is quick and easy to do.
A factory reset will delete all user data, such as contact numbers, text, messages, photos, and any other user data.
Why Complete a Hard Factory Reset on a Google Pixel 5
A factory reset is usually done before selling a phone to delete all user data and set the unit back to its original state when bought.
You may also want to reset your phone if it is not functioning properly, such as powering on and off for no reason, freezing, apps not working, etc.
In some cases, a hard factory reset can be done if a password is lost or forgotten.
When a hard reset is done, all the contents of the phone are deleted, including text, pictures, phone numbers, and so on. For this reason, be sure to copy or back up any important data that needs to be kept for work, school, or personal reasons. It is a good idea when getting a new phone to set the backup to auto-save, so it is saved often or backup every night.
How to Hard Factory Reset the Google Pixel 5 Phone
Press and hold the power and volume up button at the same time.

Hold the buttons until you see the Google logo (10-15 seconds).

The Android icon will appear and the words "No Command".

Using the volume down button go to wipe data/factory reset and tap the power button to confirm

Using the volume button, go down to factory data reset and tap the power button

The phone will reboot and the factory reset will finish.
Summary
A factory reset is often done when selling or giving a smartphone away, but it can also be done when the phone has bad data.
In some scenarios, a bad app or update can cause errors, with the only fix being to delete all the data and start over.
All the phone's user data will be erased, so be sure to back up any important information that may be on the smartphone.
Have you done a factory reset on the Google Pixel 5? Let us know your thoughts below.