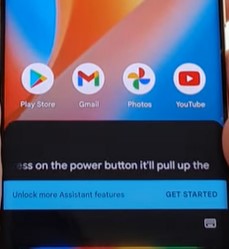 If you have a Google Pixel 6 and are finding it annoying that every time you try to turn your phone off or on with the power button, it activates the phone's Google Assistant you can turn this feature off so you can use the power button as you have in the past.
It is quick and easy to revert the power button back to normal usage.
If you are like most people and want to use the power button on your Google Pixel 6 as an actual power button, you can disable the google assistant from the button.
You will still be able to use Google Assistant by using your voice to activate this feature.
How To Disable Google Assistant from The Power Button Google Pixel 6
Select Settings

Select System

Select Gestures

Select Press and hold power button

Toggle off the hold for assistant

Power button can now be used to power on and off your phone

How Do I Turn Off Pixel6?

You can turn off your Google Pixel 6 using a couple of different methods. You can access your quick settings menu and tap on the power button and turn off your phone.

You can use the hard key/power button on the side of the phone by pressing and holding it to turn off your Pixel 6.

Last you can use Google Assistant, asking to power off your phone.
Summary
We aren't sure why Google would want to put Google Assistant on the power button, but you can turn it off and use the power button the way it was intended to be used. The above tips make it fast and easy to disable the Google Assistant feature so you can use the power button for turning your phone on and off.
The nice thing about removing the Google Assistant from your power button is you can now activate the emergency response system by pressing the power button. For many older and younger users, this is a feature that needs to be readily available without searching your smartphone for it. Peace of mind knowing that you can activate the Emergency response button with a press of a button is an important feature of any smartphone.
After turning off the Google Assistant from your power button, you will be able to lock, restart and power off your phone with the power button. If you would like to turn the Google Assistant feature back on, just follow the steps above.
If you found the above tutorial helpful, please leave a comment letting us know.