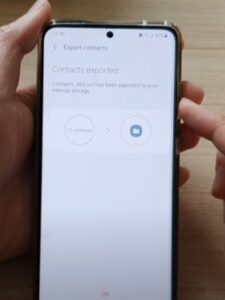 If you want to backup or export your contact list using a Samsung Galaxy smartphone, it is quick and easy to do.
The format used to export and import contact files is called VCF, which works very well to transfer all the information.
What is a VCF File?
A VCF file is a format created for storing contact information.
A standard VCF file will include names, addresses, phone numbers, email addresses, or any information related to the saved contact.
The VCF format is commonly used for exchanging contact data between users across many different devices.
For example, a contact in Microsoft Outlook can be exported as a VCF file, emailed to another person, and imported into an Android smartphone.
Other file formats such as XLS and XLSX can be converted to VCF file format and shared with others.
The file size is very small, making it easy to send via email or any other way to send data.
How to Export Contacts VCF File Samsung Galaxy Smartphone
Find and click on Contacts.

On the left, click the Menu button (Three Lines).

Click Manage Contacts

Select Import or Export Contacts.

Select Export

Select Internal Storage to save the VCF File to the phone.

Click Export at the bottom of the screen.

Summary
Exporting Contacts to other people can be done easily using the VCF file format.

The VCF file format is widely used to share contact information with other users across a wide range of programs.

This makes it easy to export and import with Android smartphones and other applications.

The file size is very small, making it easy to transfer by email or copying.

It is also a quick way to backup a contact list, and save it, in case a phone is lost or damaged.

A new Android smartphone can import the contact list, and the files will be saved.

Have you had any issues exporting a VCF file with a Samsung Galaxy smartphone? Let us know any issues you may be having below.