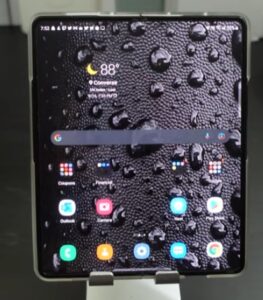 If you have a Samsung Galaxy Z Fold3, it has the option to force dark mode on all apps.
This can be handy for many scenarios when a specific app is not working correctly with dark mode.
For example, the Facebook app has been notoriously having issues with dark mode with a common fix to force the option.
Keep in mind that forcing dark mode can break incompatible apps.
Whether using the force dark mode works for you will depend on which apps you use and if they block theming in their code.
To turn the option on, Developer Options will need to be enabled.
It is easy to enable Developer Options by tapping on the Bud number ten times.
The full steps are below to turn on Developer Options and force dark mode on the Fold3.
How To Force Dark Mode On All Apps Galaxy Z Fold3
Click on Settings ( Gear Icon).

Scroll down find and select About Phone.

On the right side, select Software Information.

Tap on Build Number 10 times until it says Developer Mode is Turned On.

From the main menu on the left select Developer Options.

On the right, scroll down, find and select the Force Dark Mode option.
Summary
The Galaxy Z Fold3 is a great innovative Android smartphone but does have issues with the dark mode settings.
Some examples are Facebook and Twitter apps which have issues going into dark mode with the Fold3.
An easy way around this is to use the force dark mode feature located in Developer options but it can in some cases cause problmes.
Be aware that some apps will have issues with forcing dark mode.
This can vary widely, with some having problems and others not which depends on the apps installed the the apps compatibility with dark mode.
The only way to know is to try the option and see if it work for your setup.
Have you used the force dark mode option with your Samsung Galaxy Z Fold3? Let us know your thoughts below.