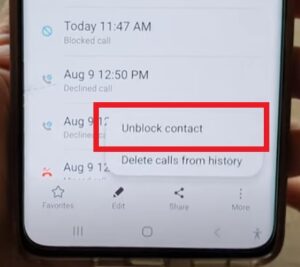 If you own a Samsung Galaxy S21 and have a blocked contact, it is quick and easy to unblock the number.
When a number is blocked, it will not ring anymore, being automatically ignored, and the call will be forwarded to voicemail.
If you have a contact that calls but the phone does not ring or vibrate, but a message is always left on voice mail, it may be blocked.
There can be other causes for a call going straight to voicemail, such as a bad signal or an unrecognized number, but a blocked call is a common cause.
How To Unblock a Contact on a Galaxy S21
Swipe up to see all apps on the phone and find and select Contacts

Find the contact you want to unblock and select it

At the bottom right of the screen tap on More button (Three Dots)

Select Unblock Contact
What Happens When You Block a Number on Samsung S21?
If you have blocked a phone number on your Samsung S21 Smartphone, you will no longer receive incoming calls or text messages from that blocked number. You will still receive voicemails but will not receive a notification you have one unanswered on a blocked number. The great thing is, the individual you block, has no idea you have blocked their number.
You will still be able to call and text that person blocked but won't be able to take incoming calls or receive incoming text notifications from them.
Summary
Blocking and unblocking contacts can be done easily with the Samsung Galaxy S21. This also includes the Galaxy S21, Plus, and Ultra.
Blocking a number is very common and often done when you no longer want to accept calls from certain individuals such as a former partner, spouse, friend, and even a family member. Spam calls and bill collectors are extremely common as well, you will want to block those numbers.
If the number needs to be unblocked for whatever reason, go into contacts, find the number, click on the More tab, and select unblock.
The contact can always be blocked again if needed from the same option.
The contact can be found from within apps or from the dial pad menu with both workings.
Are you having any issues unblocking a contact on your Galaxy S21? Let us know what the issue is below.