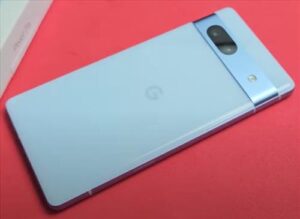 If you have an unresponsive, frozen, or broken screen and can't access the power button on your Google Pixel 7a you can complete a forced restart using the hard keys on the side of your phone.
How to Force a Restart on Google Pixel 7a
Press and Hold the Power and Volume Up Button

Continue to Hold for 20 seconds

Screen will go black, release after 20 seconds

Google logo will appear

Android logo

Restart Complete
How Do I Force an Unresponsive Phone to Restart?
If your smartphone is not responding using the screen, you can use the hard keys located on the side of every smartphone.
You will want to make sure you are using the correct hard keys for your specific phone. The time is also important, if not held long enough it won't force your phone to reboot.
Summary
If you can't access your Google Pixel 7a screen to turn off or restart your phone, you can use the hard key buttons. This feature comes in handy when your phone's display screen is frozen preventing you from accessing the screen's power buttons.
You will want to remember that after you release the hard keys, the screen will be black for 10-15 seconds as it reboots. You know you have completed the forced restart correctly when the logos start to appear as it starts back up.
If you don't see the Google or Android logo after 15 seconds, attempt to force the restart again. Make sure you are holding the hard keys for at least 20 seconds or until the Google logo appears before releasing them.
If you are still not seeing the logos, you can plug your phone into the charger and try to force the restart after waiting five to ten minutes. It could be your battery is too low and needs a charge.
If you found the above tutorial helpful please leave us a comment below.