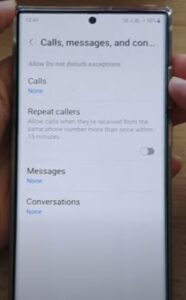 If you have a Samsung Galaxy S22 and have the Do Not Disturb enabled, certain contacts can still be allowed to call or text.
This allows for only selected contacts to call and text while all others will be blocked.
What is Do Not Disturb?
The Do Not Disturb option will mute calls, alerts, and notifications when enabled.
This is handy in many scenarios, such as going to the movies or when sleeping.
The feature can be customized to allow some contacts to call or text while silencing others.
This is a nice feature when you want all calls to be blocked except one caller who can ring or alert the phone.
For example, if a contact has been set as a favorite, an option can be enabled for them to call or text even when Do Not Disturb is on.
How To Add a Contact to Favorites Galaxy S22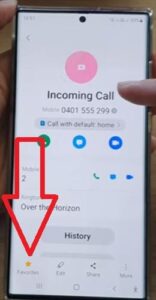 The Galaxy S22 has an option that allows favorites contact to call even when Do Not Disturb is enabled.
To add a contact to favorites, open the phone number and tap on the bottom left star symbol, which will mark it as a favorite contact.
The star will turn yellow to show it is enabled.
How To Allow Favorite Contact to Call or Text when Do Not Disturb Is On Galaxy S22
Swipe down from the top of the screen and select Settings (Gear Icon).

Select Notifications.

Select Do Not Disturb.

Scroll down and select Calls, Messages and Conversations.

Tap on Calls.

Select Favorite contacts Only.

Once set, scroll down to and tap on Messages.

Select Favorite contacts Only, and text messages will also be set.
Summary
The Samsung Galaxy s22 has many nice features and options, including managing who can call and text.
Setting the Do Not Disturb feature is great when normal contacts can leave a message and not be bothersome.
In some instances, some contacts may need to get through even if the option is set.
For example, a babysitter may have to call in an emergency, and having the number set to favorites would allow for notification while all others are silenced.
This is only one example, with no doubt many others.
Have you had any problems with your Galaxy S22 allowing contacts to call or text when the Do Not Disturb option is on? Let us know in the comments below.