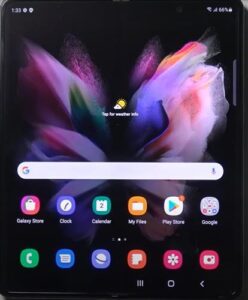 If you do not like the Samsung Galaxy Z Fold 3 default wallpaper, you can customize it to fit your unique style.
Changing the wallpaper allows you to personal the smartphone with customized images.
You can use your favorite family photo, recent vacation photo, or any image you like.
If you do not have a photo or image currently stored on your new phone that you would like to use, you can simply select the download option and find an image that you would like to set as your wallpaper.
How to Change Wallpaper on a Samsung Galaxy Z Fold 3
Select Settings (Gear Icon).

Select Wallpaper.

Select My Wallpaper.

Select New Wallpaper.

Select Set as wallpaper.

Select Home screen, Lock screen or both.

Confirmation will appear and the new wallpaper should be installed.
Summary
Changing the wallpaper on a Samsung Galaxy Z Fold 3 is quick and easy to do.
You can use a personal image or one of the many ones available on the smartphone already.
Pictures can be a nice reminder of what you have; they can be calming and inspirational, and motivational in our hectic daily life. Setting your favorite image on your phone is a nice feature offered on our smartphone.
We take our smartphones everywhere we go, so why not place that favorite picture on your smartphone lock or home screen or both. You can also select two separate images, one for your lock screen and one for your home screen. If you do not have the photo or image you would like to use, you can use the download option to download any image you would like.
You can also take screenshots of an image and save them to your photos to use as wallpaper. The hard part is selecting the image you would like to have set.
If you found the above steps were helpful, please leave us a message below letting us know.