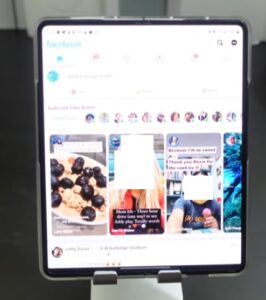 If you own a Samsung Galaxy Z Fold3 and the Facebook app will not go into dark mode, there are a few fixes.
The dark mode and the Facebook app have been finicky, with many users reporting problems.
A quick workaround used by many is to open Facebook on the front display with the phone closed, and it should go into dark mode.
After the phone is in dark mode, open it up, and dark mode should still be active.
While the workaround does work for many, it is not ideal with other more permanent options below.
There is also a video at the bottom of this post for additional instructions.
2 Fixes When Facebook Dark Mode Not Working Galaxy Z Fold3
Force Dark Mode in Developer Options


The Fold3 has an option to force dark mode on all apps.

While this may be a brute method of getting dark mode to work with Facebook, it works well for many users.

Forcing dark mode can cause issues with some apps, which is why enabling developer options must be turned on.

Enabling developer options is easy to do by tapping on the Build Number 10 times.

After forcing dark mode, if another app starts to have problems, it will need to be disabled.

If this option works or not will be different for everyone since there are so many different apps.

How To Force Dark Mode On All Apps Galaxy Z Fold3

Click on Settings ( Gear Icon).

Scroll down, find and select About Phone.

On the right side, select Software Information.

Tap on Build Number 10 times until it says Developer Mode is Turned On.

From the main menu on the left select Developer Options.

On the right, scroll down, find and select the Force Dark Mode option.

Use Facebook in a Browser

With an app for everything, many users forget that most services such as Facebook can be logged into using a browser.

While not the best option, using Facebook inside a Browser works well.

The browser can then be set in dark mode, and Facebook by default will also be in dark mode.

Most any good browser will work, with Google Chrome likely the best browser to use.

To enable dark mode in Chrome at the top right corner, tap the three vertical dots and go to Settings–> Themes.

How To Enable Dark mode Theme In Google Chrome

Open Google Chrome and tap on the three dots at the top right

Click Settings

Click on Themes

Chose Dark Mode
Summary
The Fold3 is a fantastic innovative smartphone but does have issues with the dark mode and the Facebook app.
Many users open Facebook from the front display, then with the phone closed, go into dark mode.
It will usually stay in dark mode when the phone opens but may revert back to a white background.
A more permanent solution is to use the force dark mode on all apps, but this can affect other apps that are not compatible.
The only way to see if your apps are compatible with the force dark mode method is to test it out and revert back if there is a problem.
Lastly, a web browser such as Google Chrome can be used to log in to Facebook with the browser in dark mode.
There may be another option we have not found yet.
If you have a good way to keep Facebook in the dark mode when using the Samsung Galaxy Z Fold3 let us know in the comments below.