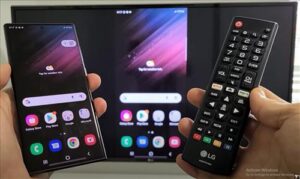 Mirroring your Samsung Galaxy S22 to your smart TV split-screen to work on projects and share photos or videos taken on your smartphone using a larger screen.
Casting or Mirroring your phone to your TV allows you to wirelessly connect your phone without having to use a cable.
Most smart TVs have the ability to screen mirror but you will want to check to make sure it has Miracast ability.
If you can't wirelessly connect, you can also use an HDMI to use the screen mirror feature.
How to Cast or Mirror a Galaxy S22 to Your TV
Swipe Down on Home Screen.

Swipe Down Again.

Select on Smart View.

Tap on Next.

Tap on Continue.

Tap on the TV you want to Mirror.

Tap on Start Now.

On Your TV Select Accept.
Summary
Connecting your Samsung Galaxy with your smart TV is an awesome feature that gives you a larger display screen. You can play video games, watch movies, play music, stream live zoom meetings and connect with family on video calls. You can also use the split-screen feature and mirror cast to your TV to practice PowerPoint presentations and other work-related projects.
If you want to use this feature but are having issues, you can try using an HDMI cable if having your phone tethered to the TV doesn't bother you. We recommend a longer cord if you want to keep your phone right next to you.
If you want to adjust the screen, pause the smart view or disconnect the Galaxy S22; make it easy by providing a smart view icon on your home screen. With the Galaxy S22, you will also be able to use selfie video, adding a little more fun when gaming or communicating on phone calls.