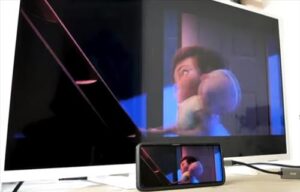 The Samsung Galaxy S21 is a great phone with many features, including being able to display to a TV.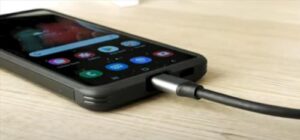 This can be done wireless or with an HDMI cable.
Using an HDMI cable is quick and easy, with the TV only needing an HDMI port.
This has an advantage as many older TVs cant screen mirror wirelessly.
Can I Connect My Galaxy S21 to my TV?
Yes, the Galaxy S21 can be connected to a compatible TV, both wireless and with an HDMI cable.
The TV will need an HDMI port to use a cable.
What Items Do I Need To Connect a Galaxy S21 to a TV?
A USB-C to HDMI cable will be needed to connect to a TV.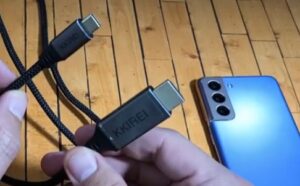 Alternatively, there are also Type-C Hubs and other electronics for more advanced setups.
Depending on where the phone was bought, the box that came with the phone sometimes has the cable.
If not it can be bought at many locations such as Walmart, Amazon, or eBay.
See here for an Example USB-C to HDMI cable on Amazon
How To Connect a Galaxy S21 to a TV with an HDMI Cable
Connect the HDMI side of the cable to the TV

Set the TV to the Correct HDMI Input

Plug the USB-C side of the cable into the Galaxy S21

The screen will display on the TV

Summary
Hooking a Galaxy S21 to a TV is quick and easy to do.

Once the cable is connected, be sure to be on the right HDMI input.

If nothing displays the check the connections and the cable as it may be bad.

After connection, Samsung Dex will come up which can help with displaying to a big screen TV.

Samsung Dex is not required and can be ignored if you do not want to use it.

Also, turning the phone sideways into portrait mode will display a full screen to a TV.

Have you connected your S21 smartphone to a TV? Let us know in the comments below.