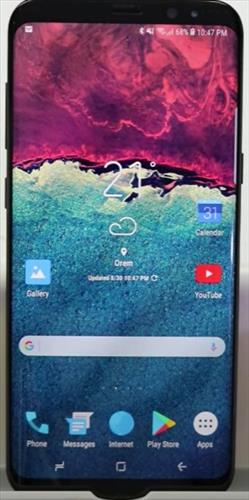 Changing out the theme on the Samsung Galaxy S8 is quick and easy to do.
It can be a great way to bring life and a new look to an old smartphone.
There are other themes available from the Galaxy S8 settings and also other sources such as the Google Play store.
What is the Samsung Galaxy S8 Theme?
The Galaxy S8 theme is what controls the look and feel of the smartphone.
This includes the text and font size, app icon size, background images or colors, and more.
Often a new theme can make a smartphone look completely new.
How To Change the Theme on a Galaxy S8
Long press on an empty area on the screen.

Select Wallpapers and themes.

Select themes.

Select the theme to use.

Select Apply.

Select Apply again.

Wait for theme to download.

After it downloads it will install and be ready to use.
Summary
If you change the interior of your living space, why would your Galaxy S8 smartphone be any different?
Maybe you have a favorite place you would like to visit or have visited, an inspirational quote to keep you motivated and moving forward with your goal, or maybe you just need something to make you smile. Changing your Theme allows you to customize and decorate your phone from the inside so you and others can enjoy it on the outside.
When you decide to change your Theme you are changing more than just the background; think of it like a little package full that comes with color change, icon changes such as email, text message, phone display, folders, etc.
Because of this, you will want to test out your Galaxy S8 smartphone for a day or two and make sure it is aesthetically appealing and functional for your daily needs.
When you change your Theme, not all the themes you download will change the icons, but many will.
If you are looking for new themes, you can find them in the google play store or by scrolling down on your phone when you are in the theme settings on your Galaxy S8 smartphone.
There are free or priced themes that can be purchased if you choose but make sure you want to use this Theme if purchasing as sales are final.
You can change out your Theme as often as you like; follow the steps above for an easy step-by-step walk-through on how to change out your Theme.