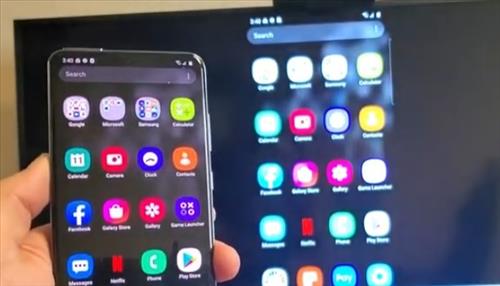 The Galaxy S20 has many nice features, including connecting it up to a big-screen TV and mirroring the screen.
It can be connected with an HDMI cable and mirror the screen of the phone onto a TV.
This is a great option for sharing all types of media, including pictures, videos, or anything on the display of the phone.
Can I Connect Galaxy S20 to a TV with an HDMI Cable?
Yes, the S20 can connect to a TV with a USB-C to HDMI cable.
It is quick and easy to connect and set up, basically plugging in the cables, and they are ready to mirror the screen.
What Items Do I Need To Connect a Galaxy S20 to a TV?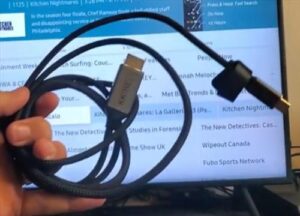 A compatible USB-C to HDMI cable will be needed to connect to a TV's HDMI port.
Most often, the USB-C to HDMI cable is included in the box with the Galaxy S20, but if not, they are readily available from many stores or online.
See here for an Example USB-C to HDMI cable on Amazon (As an Amazon Associate we earn from qualifying purchases.)
Samsung Dex vs. Standard Mode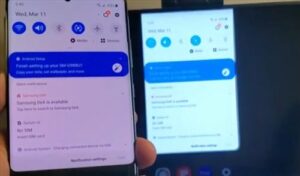 There is an option called Samsung Dex that will create a desktop experience on the TV.
The standard mirror mode will mirror the screen as seen on the phone.
Both options can be enabled or disabled as default from settings.
Some users have reported problems with Dex, so if the screen does not mirror, use the standard mode.
How To Connect a S20 to a TV with an HDMI Cable
Connect the HDMI side of the cable to the TV.

Set the TV to the Correct HDMI Input

Plug the USB-C side of the cable into the S20.

The screen should display on the TV, if not read below.

If the screen does not display, go to Settings–> Connections–> More Connection Settings–> HDMI Mode.
Select Screen Mirroring
Summary
The Galaxy S20 is a great Android smartphone with many nice features and options.
One such feature is the ability to connect to a big-screen TV and display the phone's screen.
This is a great feature in many scenarios, from a meeting and showing graphs to being at home and playing a video on the phone.
Showing pictures on a big TV can also be done especially at family gatherings or similar.
Samsung Dex can be used, which will mimic a desktop environment.
The standard mode will display the smartphone as it looks with no alternation.
Both options can be good and depend on the user for which is best.
Have you had any issues connecting a Galaxy S20 to a TV? Let us know your thoughts below.
*The owner of this website, androidyii.com is a participant in the Amazon Services LLC Associates Program, an affiliate advertising program designed to provide a means for sites to earn advertising fees by advertising and linking androidyii.com to Amazon properties.