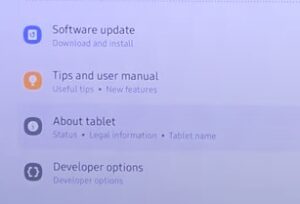 The Galaxy Tablet S8, like all Android devices, has a developer options section that can be enabled.
The steps below will also work with most Samsung tablet models. Depending on the tablet and version you are using, it may vary, offering fewer or more options to choose from.
What is Developer Options Mode?
The developer options mode allows you to make changes to the manufacturer's default settings on your Samsung Galaxy Tablet S8.
The options available in developer mode is more experimental and can cause issues in some cases.
For this reason, Developer Options is for advanced Android users.
If, after changing the settings, you realize that your tablet is not functioning as before, you can go back into the developer mode and turn them off; just remember which ones you turned on.
Some of the features are easy to turn on and off, allowing you to experiment with changes.
Be careful installing or changing some of these settings if you aren't aware of what they are or what they do.
How to Enable Developer Options Mode on an Samsung Galaxy Tablet S8
Select Settings (Gear Icon).

Select About tablet.

Select Software information.

Tap Build number seven times.

If the phone is password protected, enter passcode.

Developer mode has been enabled will appear.

Select Developer options.

Toggle On Developer options that you want to enable or disable.
You can now turn on to edit your options by using the toggle button on the top screen after selecting developer options.
You can either leave the option on or turn it off when you are finished making changes.
Summary
Turning on the Developer Options on a Samsung Galaxy Tablet S8 is quick and easy to do by taping the build number seven times.
There are multiple advanced settings that can be changed under the developer options to enhance the performance of your tablet.
Some of the options available include Memory, Bug report, Desktop backup password, Stay awake, HD audio, Auto update system, Multi-window for all apps, Autofill, Storage, Location, Games, Media, Monitoring, Apps, Standby apps, and so many more. The great thing about having access to developer options is that it gives you the freedom to customize your device yourself.
If you used a tablet other than the Samsung Galaxy Tablet S8, let us know what Samsung device you do have and if the steps above helped you enable developer mode.
Are you having issues with the Samsung Galaxy Tablet S8 Developer Options? Let us know the problem in the comments below.